Skeedeen | Wednesday, April 7, 2010

The rough hatch frame had cured overnight, so after removing the squeezed-out epoxy and sanding flush the angled corner blocks, I set the frame in place on the coachroof and scribed the forward and after sides to the contours of the deck. Then, I sawed to the lines and planed a corresponding angle on the longitudinal sides of the frame between the curved ends.

After a test fit, I used the Lewmar hatch to mark a curve on the corners of the frame, using a scribe to match the reveal around the straight edges of the frame. After cutting the curves, I finished the frame prep by sanding it smooth and lightly easing the top edge.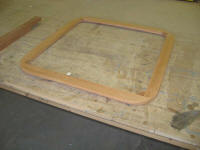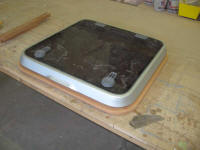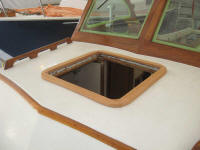 Finally, I applied a sealer coat of varnish, and, late in the day, lightly sanded and applied a second coat. I'd continue with a few more coats of varnish before installation.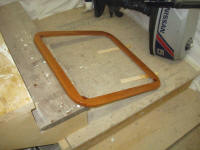 I continued the brightwork prep and masking where I left off: the outside faces of the windshield still required tape, as did the toerails, eyebrows, handrails, and anchor platform. After taping, I sanded all the brightwork with 320 grit paper, and vacuumed away the dust, along with any debris on the decks left over from the winter.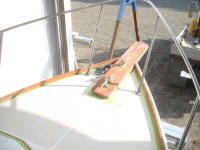 With new canvas underway, we'd decided earlier not to reuse most of the existing snap locations on the windshield, since some former installer had placed them with little or no regard to consistency, aesthetics, or common sense. However, the snaps on the starboard side of the side windshield--the longitudinal portion (which probably has a proper name, but it's escaping me if it does)--had been deemed acceptable, so we decided to leave those in their original positions.

For the remainder, however, I removed the snaps (and two frame hinge points) and drilled for and installed teak bungs to fill the screw holes, which brought me to the end of the day.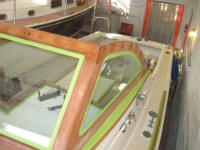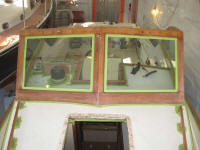 Total Time Billed on This Job Today: 6 hours