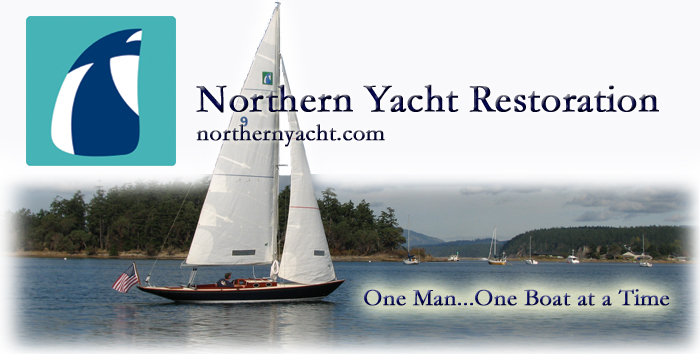 110 Cookson Lane | Whitefield, ME 04353 | 207-232-7600 | tim@lackeysailing.com
Home
| Contact Lackey Sailing |
Conversion Projects
|
Project Logs
|
Tim's Projects
|
Flotsam

S

ailmaster 131

| Wednesday, September 11, 2013

I started the day once more with a round of sanding, concentrating on the newly-laminated starboard sidedeck, as well as the coachroof and other recored areas that I'd been working on. I also took the opportunity to sand smooth the remaining nonskid on the foredeck.

The opening port on the forward face of the cabin trunk was now in the way, so I removed it to make way for the ongoing sanding and prep efforts.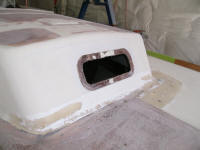 Inside the boat, I sanded away the paint from areas adjacent to the wide-open bridgedeck area to prepare for its repair. As in other areas on this boat, the laminate was white-colored and therefore didn't stand out much from the unsanded areas.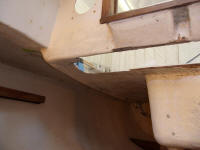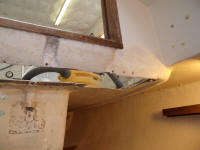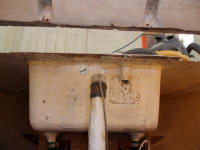 A few areas on deck required additional prep work. I planned to fill and patch all existing hardware and fastener holes, so to that end I ground tapered areas around some of the larger holes in the foredeck (a centerline vent, water tank fill location, and anchor chain pipe), and reamed out other fastener holes scattered about the deck to prepare for patching. I also ground out small dished areas in way of the various exploratory core sampling holes I'd drilled earlier so I could fill and patch those.

After cleaning up, I applied epoxy fairing filler as required. The coachroof and after deck areas, now on their third round, required mainly spot filling at this point, while the starboard sidedeck and foredeck were just beginning their treatments. As before, I skim-coated the foredeck field to fill pinholes and minor remaining nonskid pattern left over after sanding.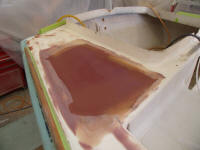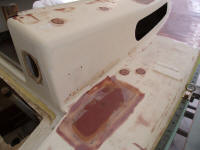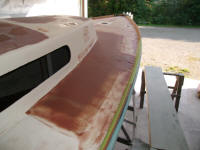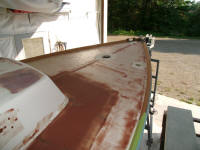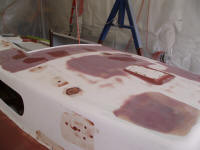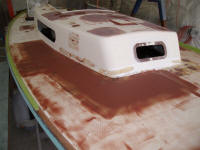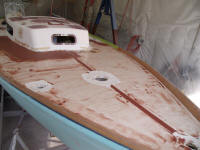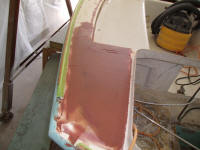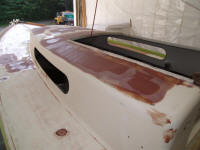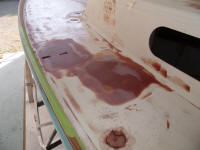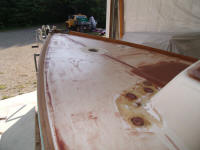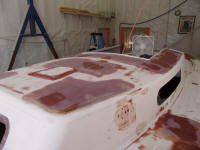 For the core sample holes, I filled the voids with epoxy (many had already been filled during earlier rounds), then installed circular patches of fiberglass over each area.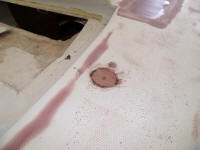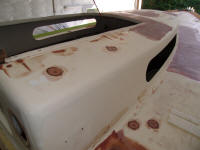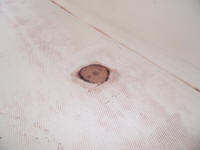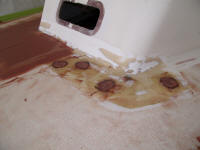 With a bit of time remaining in the day, I removed the hardware from the lazarette hatch cover, and also removed the centerboard winch bracket from the plywood panel to which it'd been attached.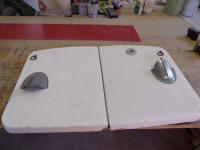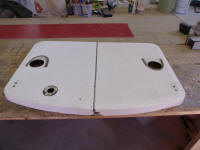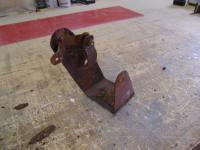 Total Time Billed on This Job Today: 8.25 hours