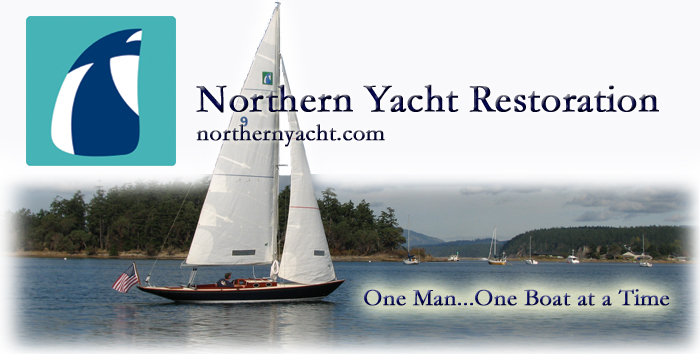 110 Cookson Lane | Whitefield, ME 04353 | 207-232-7600 | tim@lackeysailing.com
Home
| Contact Lackey Sailing |
Conversion Projects
|
Project Logs
|
Tim's Projects
|
Flotsam

S

ailmaster 131

| Monday, September 9, 2013

After a few days off, I got back to work on the decks. After removing the weights securing the core in place on the starboard sidedeck, and the usual pre-sanding preparations, I sanded all the newly-laminated patches on the coachroof and elsewhere, feathering the edges flush with the surrounding decks and lightly scuffing all areas to prepare them for additional work. I also prepared the newly-cored sidedeck for its top skin fiberglass by lightly sanding to remove any excess epoxy from the core installation.

At the same time, I began the process of smoothing the existing nonskid pattern, for now concentrating on the coachroof and after portions of the sidedecks, and also removed any paint from these and adjacent areas (notably the cabin trunk sides).

Before I could complete the new laminate on the starboard sidedeck, I needed to fill in the void around the chainplates with solid fiberglass. After patterning and cutting several pieces for each side, I began the laminating process, installing several layers at a time and allowing to partially cure before continuing in order to avoid heat buildup. During the remainder of the day, I filled these voids with additional layers of fiberglass cloth and epoxy resin. The photos below show an early stage of the process, then the final stage near the end of the day.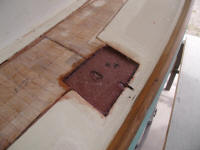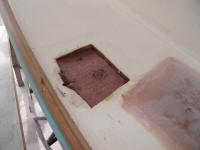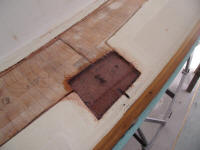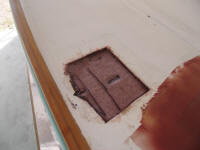 After cleaning and solvent-wash, I applied the first round of epoxy fairing filler to the various patches on the coachroof and elsewhere, filling any obvious low spots but mainly filling the weave of the cloth as needed, bringing me to a stopping point for the day.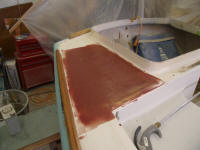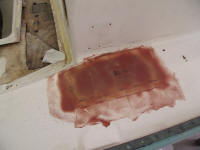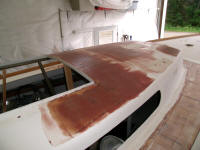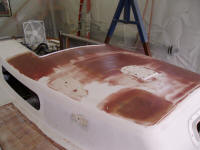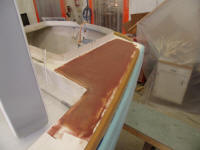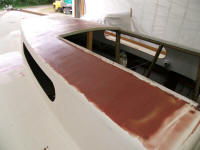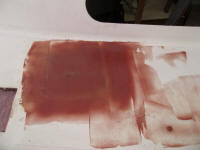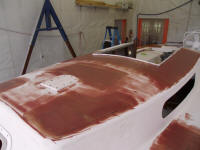 Total Time Billed on This Job Today: 7 hours