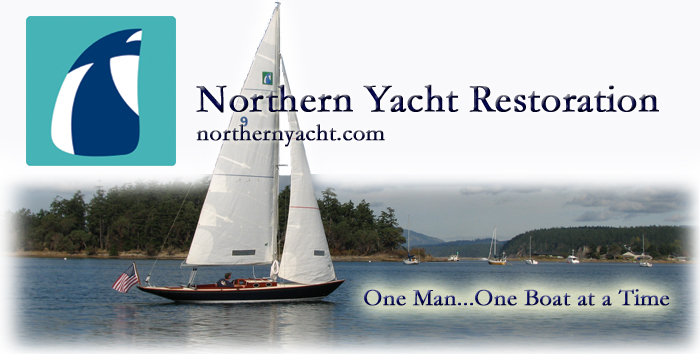 110 Cookson Lane | Whitefield, ME 04353 | 207-232-7600 | tim@lackeysailing.com
Home
| Contact Lackey Sailing |
Conversion Projects
|
Project Logs
|
Tim's Projects
|
Flotsam

S

ailmaster 131

| Thursday, October 31, 2013

After a bit of final work stripping some of the tightest corners where my sander hadn't fit, and some other final sanding, I got to work on the new cabinets in the "galley". The new plan for the interior was to keep things simple while freshening the overall appearance, and to that end the cabinets to replace the rotted galley and head areas I'd removed earlier would be straightforward and identical side to side, with painted finish to match the settee and berth faces, condition of which dictated a paint finish instead of varnish.

To begin, using the ghosts of the old countertop position on the port side, I struck new layout lines for the countertops and vertical cabinet faces on each side, then milled and installed hardwood support cleats with glue and screws.

From 9mm marine plywood, I prepared oversize blanks for the cabinet faces, and scribed the bottom edges to fit the hull before trimming the top edge flush with the countertop support cleats.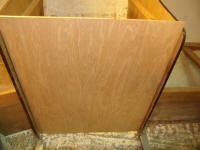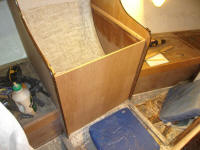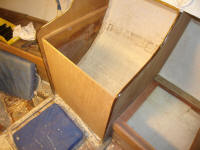 For access within the cabinet, I laid out and cut openings in the cabinet faces, rounding and sanding the edges smooth.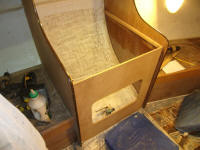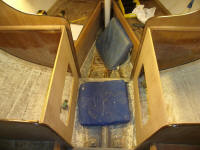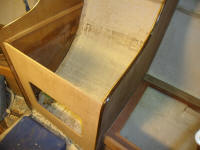 Satisfied with the fit, I treated the bottom edge of the plywood with epoxy, then installed the cabinet faces permanently with epoxy (along the juncture with the hull and on the cleats) and screws.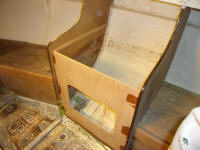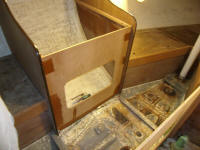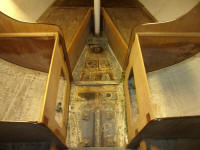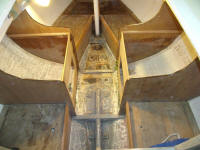 At the low point (after ends) of the two cabinets I left limbers to allow drainage of any moisture that might otherwise collect inside the cabinets. I used leftover epoxy to fill the recessed screw heads; these areas would be painted.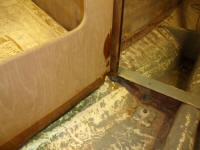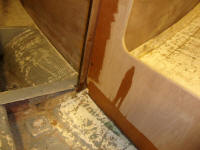 Working again with oversized blanks of plywood, I cut and fitted the countertop substrates, scribing the outboard edges to match the shape of the hull before trimming the inboard edges flush with the cabinet. Before final installation, I'd cover the surfaces of the counters with high-pressure laminate.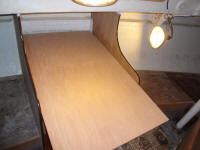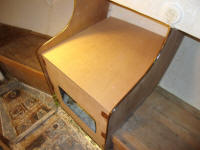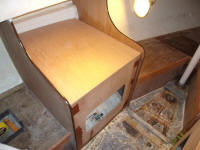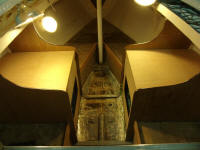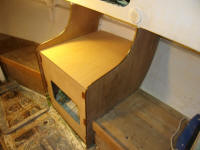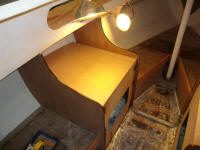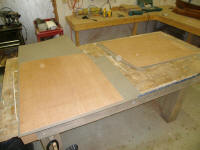 Total Time Billed on This Job Today: 7.5 hours