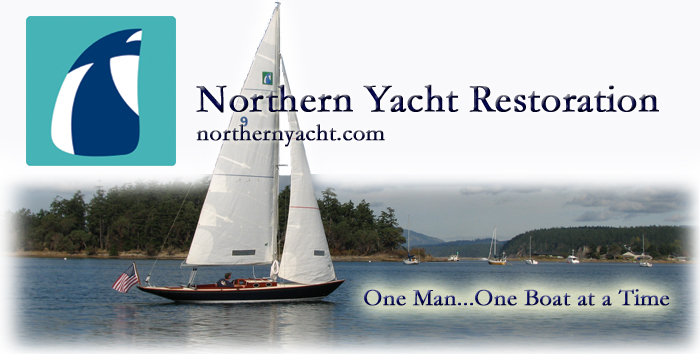 110 Cookson Lane | Whitefield, ME 04353 | 207-232-7600 | tim@lackeysailing.com
Home
| Contact Lackey Sailing |
Conversion Projects
|
Project Logs
|
Tim's Projects
|
Flotsam

S

ailmaster 131

| Friday, August 9, 2013

I'd not ever seen the boat or photos during the discussions leading up to the project, so I was anxious to get started and check her out. When the boat arrived at the shop a few days earlier, she was still covered in shrinkwrap, delaying my first viewing for a few days. Hull #131 of the popular S&S-designed Sailmaster 22 class, this was the weekender version, featuring a longer cabin trunk and somewhat shorter cockpit than the daysailer version.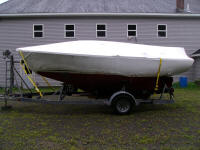 On a rainy Friday shortly after completing the previous project in the shop, I took advantage of a semi-break in the rain to move the boat indoors, after which I removed the cover and framework so I could get my first look. My initial impression was that she was in fairly good condition overall for her age, but with a clear need for various upgrades. But she didn't appear neglected or broken, and that was a good start.

The hull had been painted sometime, and looked OK from a distance, but a combination of inadequate surface prep and moisture retention from the shrinkwrap had created paint failure in the form of bubbles over much of the surface, particularly on the starboard side. A section of the paint beneath the counter had peeled completely away, and other areas were loose and I could easily pull away the coating.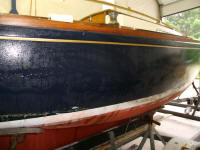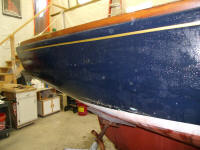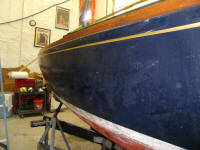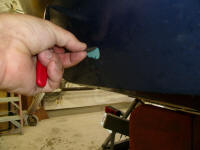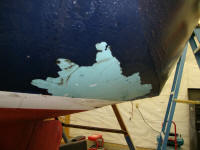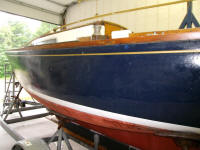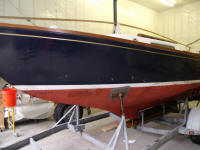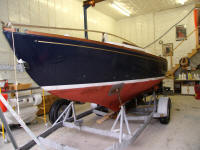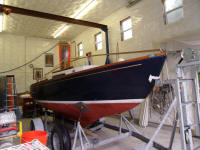 The decks featured a couple older repairs of suspect nature, and some other indications of potential problems lurking within. I'd delve further into this in the near future.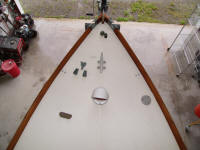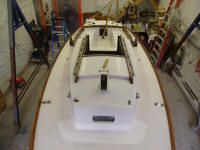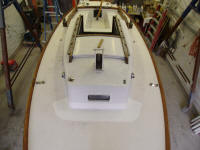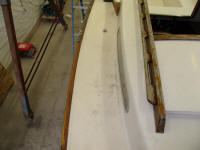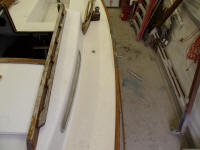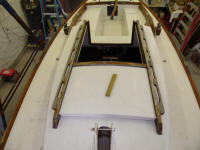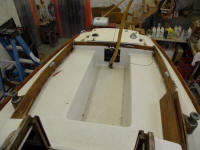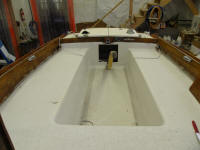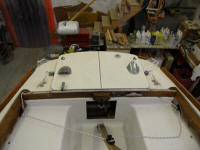 Other than a mildewey smell from being closed up, the interior was in surprisingly good condition, all things considering. The owner indicated a desire to simplify the interior somewhat, but the details at this point remained unknown. But the initial condition was a positive starting point.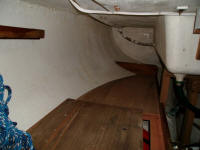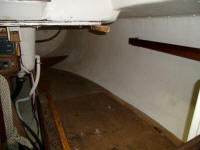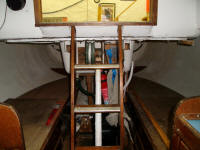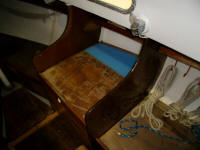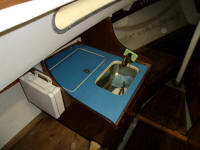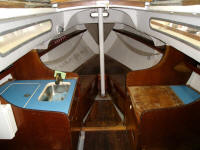 Other work on the task list included pulling the centerboard for probable replacement, something I'd look into in more detail shortly.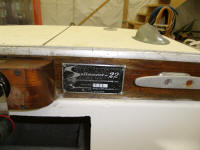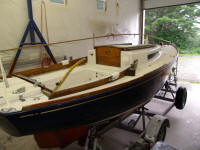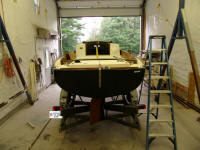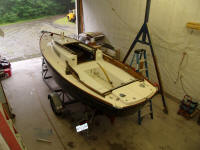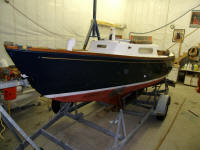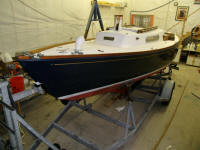 Total Time Billed on This Job Today: 1 hour