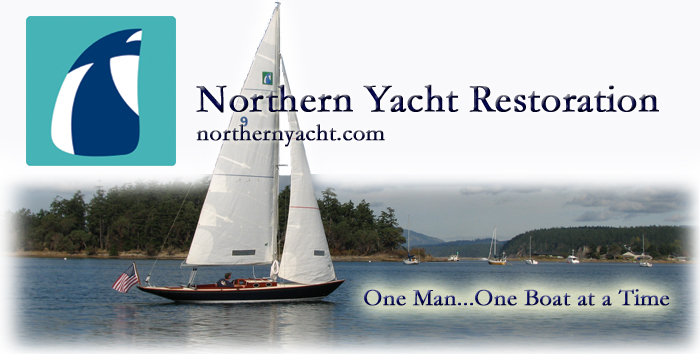 110 Cookson Lane | Whitefield, ME 04353 | 207-232-7600 | tim@lackeysailing.com
Home
| Contact Lackey Sailing |
Conversion Projects
|
Project Logs
|
Tim's Projects
|
Flotsam

Ms Lynne G | Tuesday, September 2, 2014

The latest round of fairing compound on the topsides and bottom had had ample cure time over the long weekend, so my first task was to sand those areas. This pretty much wrapped up the major work on the hull, though there'd be additional finish sanding later.

The through hull patches were essentially fair with the hull, but contained small air pockets and the occasional low spot from the first round of fairing compound, so I applied additional material as required. I also found an area on the starboard topsides amidships containing numerous very shallow gouges that I filled as well.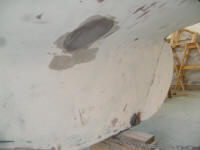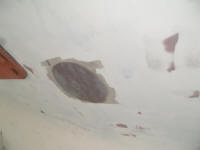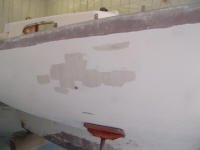 Before getting to work on deck, I set up staging around the hull to provide access.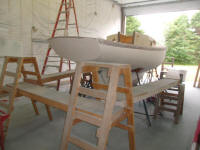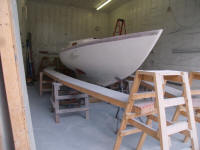 The owners selected a Torqueedo electric outboard motor for auxiliary power. Earlier, I'd roughly measured the existing outboard well and compared it with the measured drawings available online, to determine a conceptual fit. With the new motor now on hand, it was a good time to unbox it and check its actual fit in the well to determine whether any changes were required.

The motor, in three pieces, was easy to assemble and install. It was a good fit in the well, though the shaft just contacted the forward end of the well with the bracket pin in its (stock) forwardmost location; moving this pin one or two holes aft would allow the shaft to easily clear the hole in the hull, and would also straighten the shaft to vertical in this installation. Otherwise, the unit was a good fit in the space.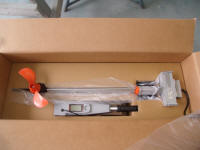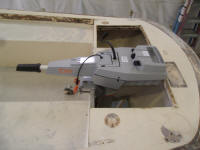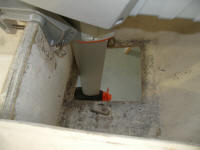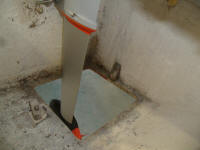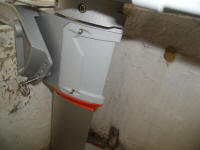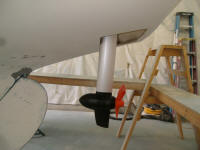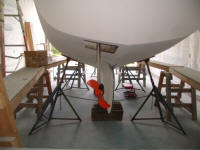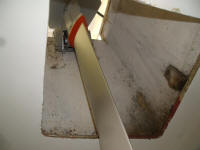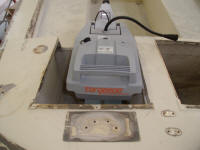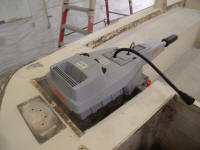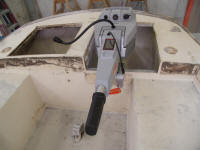 Satisfied with the test fit, I carefully reboxed the motor, and set the sealed box aside for safekeeping.

Continuing with the top half of the work I'd begun on the hull earlier, I sanded around the deck at the gunwale to remove gelcoat about 3-4" in from the edge, allowing for a slight recess and good bonding surface for new tabbing. I also rounded the edge of the hull/deck joint to provide a clean and visually pleasing--as well as suitable for fiberglass overlay--curved profile to the edge. This curved area would later be visible outboard of the new toerail. I worked my way around the entire boat in this way, and also completed a first round of sanding on the sidedecks and foredeck to begin removing and smoothing the original molded nonskid.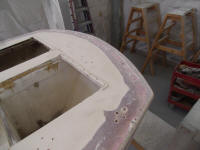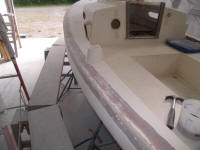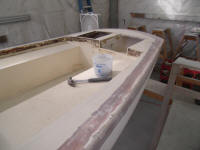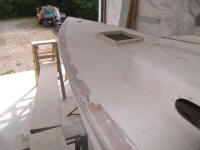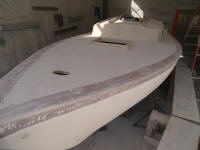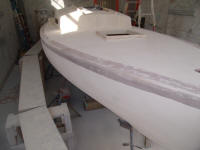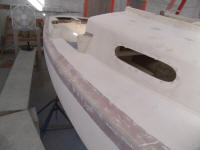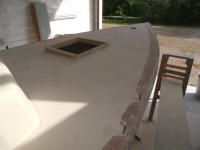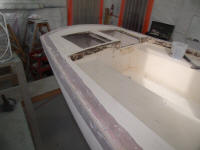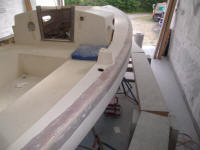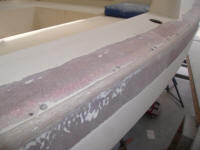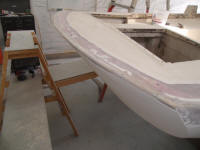 Total Time Billed on This Job Today: 7 Hours