Hattie Mae | Thursday, June 25, 2009

I had a short day today, but before I left the shop for the day I made a few strides towards completing some of the ongoing projects.

I began with another coat of varnish on the forward hatch frame.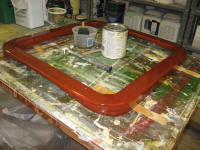 Afterwards, I water-washed and lightly sanded the tabbing securing the fuel tank frame to the boat, and all the other epoxy-coated surfaces. After cleaning up and solvent-washing, I installed the fuel tank platform with screws and epoxy to the new framework, and then secured the platform along both long edges with two layers of biaxial tabbing, against the hull and inside of the cockpit locker, and epoxy-coated the remaining bare plywood. I left this to cure.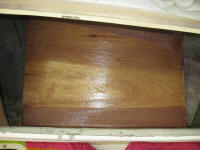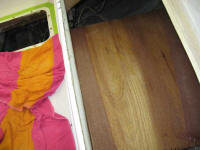 I set the new cockpit hatch frame in place and redrilled pilot holes in the newly-epoxied and overbored holes, and vacuumed up the dust. Then, I reassembled the hatch cover into the frame, and installed the hatch in a bed of LifeSeal, securing it with #10 screws. I left the sealant to cure in place before I attempted cleanup.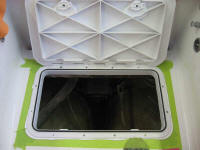 Total Time Billed on This Job Today: 1.5 hours