Equinox Project | Wednesday, January 28, 2009

First thing, I masked off the boottop and then painted the bottom. I applied one coat for now; later I'd apply more, and take care of the various unpainted patches that I left alone for now. It looked great to change the bottom color and finally pull the whole boat's color scheme together. Now she just needs a cove stripe, which is pending final color choice after running into an availability problem on the original choice.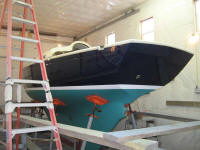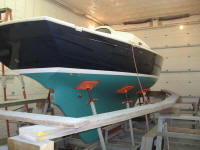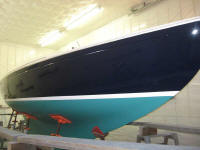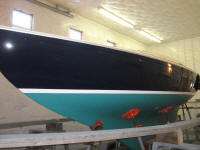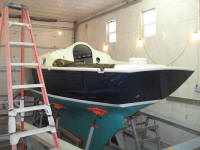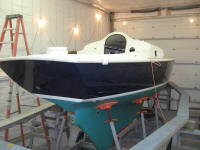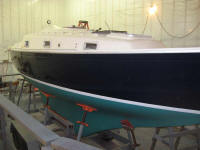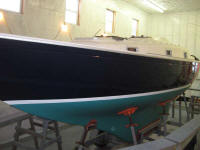 It was a good day to take care of the cabin sole veneer. I applied chemical stripper to the main section, the v-berth section, and the three existing hatches and, once the stripper had done its job, scraped and cleaned up the pieces. The main section, despite large areas of partially-lifted varnish to begin with, took a second application of stripper to remove all remnants of the old finish.

As of this writing, and these photos, the sole pieces had not been sanded.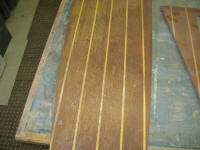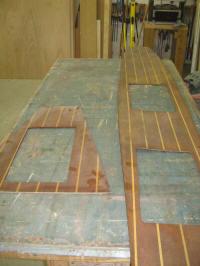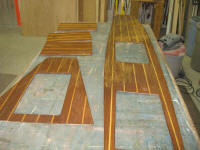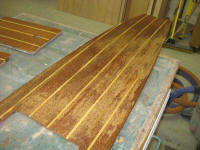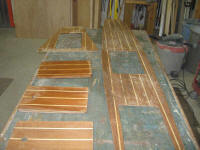 I began the through hull installation process by test-fitting each through hull in its proper hole; earlier in the week I had enlarged some of the holes to allow for the new fittings, which were larger than the old. With each fitting temporarily installed, and the depth of the threads required for the bolted flange fittings that would go on the inside of the hull already noted on the fittings themselves, I made a note of how much protruded inside the hull, so that I could determine the thickness of the backing plates required.

For the two smaller through hulls--galley sink and engine intake--a 1" backing plate would work nicely. The two cockpit scupper fittings, however, protruded further into the boat, with nearly an inch and a half of extra thread above and beyond that needed to thread into the flange fitting; since I didn't want to use a backing plate thicker than 1", I decided that for these two fittings, I'd cut off some of the excess length in addition to using a 1" backing plate. I ordered some 1" G-10 material to use for the backing plates, and set the fittings aside for now.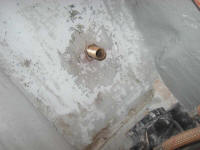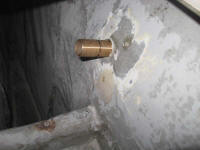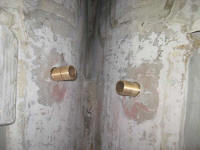 I spent most of the remainder of the day working on removing the old Cutless bearing, which some nice person in the distant past had elected to install with epoxy all around it, firmly securing it within the bronze stern tube. Eventually I managed to remove the old fitting.

Total Time on This Job Today: 6.5 hours