Equinox Project | Wednesday, February 10, 2009

I spent the day mostly on hardware duty, installing what seemed to be a terribly small number of fittings for the time consumed. I reinstalled the 8 U-bolts for coachroof jacklines (4), mainsheet tackle (2), and forward just aft of the stem, for (I think) deck attachment of the lifelines (2). I also installed the coachroof halyard cleats, from which I'd earlier managed to remove the broken and corroded fastener studs. Once all the pieces were installed, I had to cut off some excess fastener length from most of the bolts for best appearance and to allow trim panels to fit properly; in the same operation I removed the excess length from the other coachroof hardware that I'd installed last week.

I held off installing any of the stern pulpit bases, as I'd need to run some wiring first, and also needed the pulpit in place in order to ensure proper positioning and alignment for the aft bases. But I did install the stern cleat and an autopilot mount on the poop deck, rounding out what I could do there for the moment. Later, I'd install the pulpit and, finally, the new cowl vents and ventilation hoses to the engine compartment.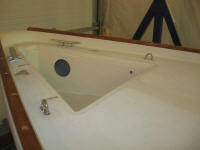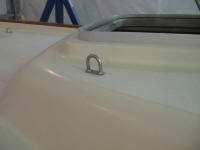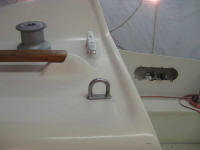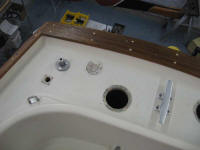 A new solar vent, which I'd ordered to replace an old ventilator that had been in place on the starboard coach roof, arrived, and I began the installation process. The existing opening was a bit small, so I used a drum sander to open it up as necessary. Afterwards, I cleaned up the dust, the drilling spoils from some drilling earlier in the day, and the various grinding residue and bolt ends from the interior where I'd cut off the fasteners. Some sealant that I needed to install a few plastic components--the solar vent and new access plates up in the anchor well, specifically--arrived, so it looked like I could wrap up those installations tomorrow.

In and around some office work and systems research, I finished up the day by paring off the excess bung length from the exterior wood. Two of the new bungs broke off below the level of the surrounding wood, so I drilled them back out and installed new ones. The cockpit had been feeling cluttered, so I removed most of my tools and other related sundries down to the bench, now that most of the hardware installation was complete.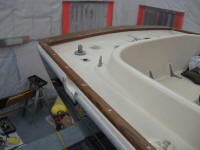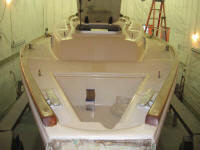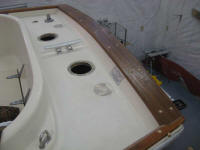 Total Time on This Job Today: 7 hours