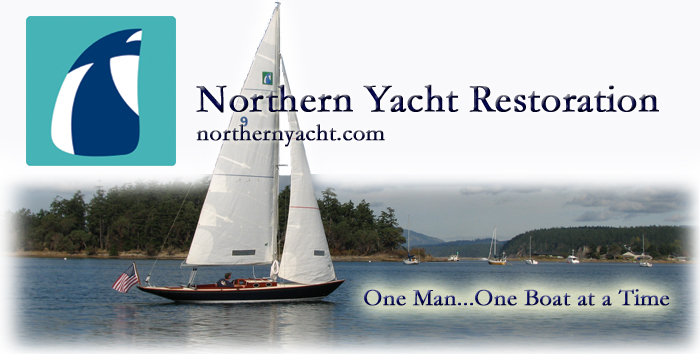 110 Cookson Lane | Whitefield, ME 04353 | 207-232-7600 | tim@lackeysailing.com
Home
| Contact Lackey Sailing |
Conversion Projects
|
Project Logs
|
Tim's Projects
|
Flotsam



Ensign #1212

| Wednesday, May 14, 2014

After final preparations, I installed the new bulkhead sections. I placed the bulkheads in a bed of thickened epoxy where they met the hull and deck, and secured them as needed with clamps and small wooden blocks temporarily glued in place to hold the bulkheads in proper alignment and plumb. I left the bulkhead alone for the epoxy to cure before continuing with the installation.

High build primer for the hull and deck would be the next stage of surfacing and preparation work, and I planned to do the application in a few days. Once I'd applied the high-build, I could take care of any final pinhole filling or other minor fine-tuning of the surfaces.

One of the steps required before beginning the process was to remark the waterline (e.g. top of the bottom paint). After solvent-washing the hull to remove dust, I used reference measurements I'd made at the beginning of the project to mark the waterline location on the stem and stern, then set up level beams at this height at each end.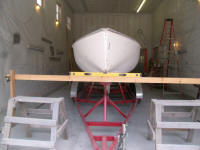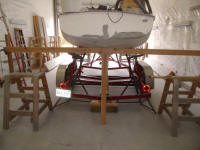 With a level line strung between the end planks, drawing it in bit by bit to the ends and marking as I went, I made a series of tick marks to indicate the waterline position on both sides of the hull, a process I've detailed elsewhere numerous times.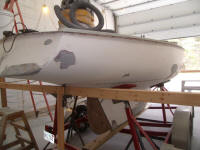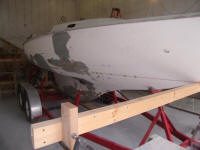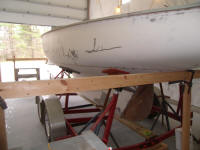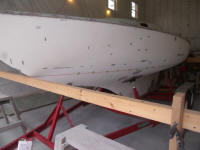 With a series of pencil marks for reference, I masked below the line, demarking the lower extent of the primer on the topsides.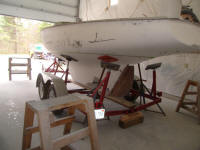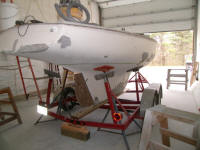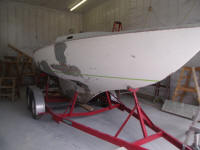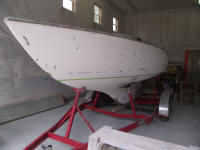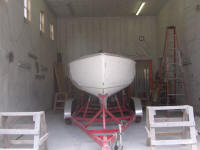 During the remainder of the day, I took care of sundry tasks, including squaring away the woodshop after the bulkhead-building process, which had made a mess, and trimmed the plywood remaining into a large blank from which I'd later cut new doors for the cabin.

Total Time Billed on This Job Today: 7 Hours