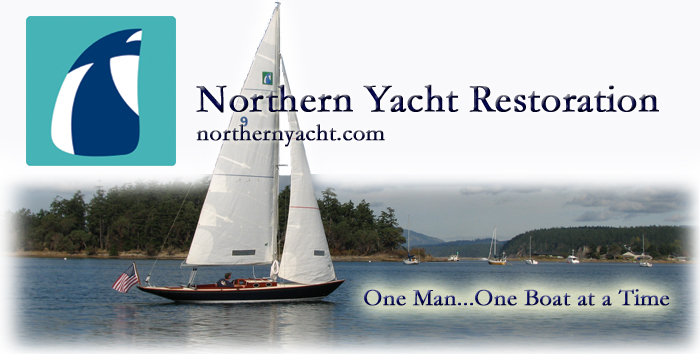 110 Cookson Lane | Whitefield, ME 04353 | 207-232-7600 | tim@lackeysailing.com
Home
| Contact Lackey Sailing |
Conversion Projects
|
Project Logs
|
Tim's Projects
|
Flotsam



Ensign #1212

| Tuesday, June 17, 2014

Once more, I started the day by sanding all the brightwork; after cleaning, I applied another coat of varnish.

This took about half of the day. Later, I returned to work on the cockpit sole. The aftermost cross beam support had rotted away to nothingness, so to build its replacement I had little to go by other than the remaining beams. Erring on the side of caution, I knowingly built the new beam perhaps a bit longer than would be finally required, and cut the ends at an angle approximating that of some of the other beams' outboard ends, though I suspected I'd be fine-tuning the angle when I test-fit the sole later.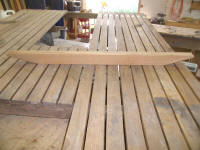 Using new 1-1/4" bronze screws, I secured the new beam in place through the original holes, ensuring that the beam's overlap into the hatch opening was sufficient to support the hatch without getting in the way. Once I'd installed the new beam, I could remove one of my temporary glued-on braces, though I left the aftermost one in place for now pending final structural work that I'd get to next.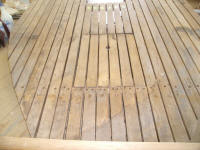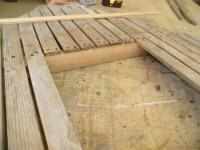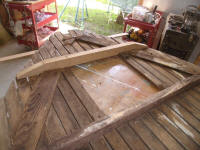 The after tip of the sole featured rotted plywood supports beneath; one was completely wasted, while the other sections were more or less intact and could serve as templates for the new material. From 12mm marine plywood, I prepared the new supports, but before installation I coated them with epoxy on all sides for moisture protection. I left the coated pieces to cure before continuing their installation.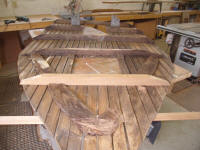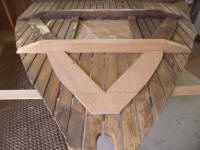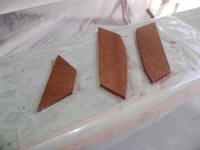 I continued moving forward, and started removal work on the next cross beam, which was also substantially rotted out at the ends, but retained enough of its shape for me to approximate the angled end cuts on a new section of 6/4 teak. I worked to remove bungs and screws from part of the old beam, still a slow process taking me through the end of the day.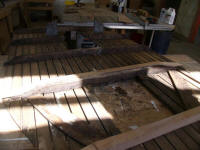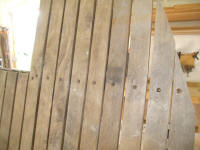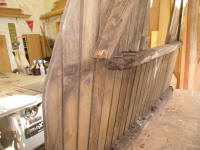 Total Time Billed on This Job Today: 6.75 Hours