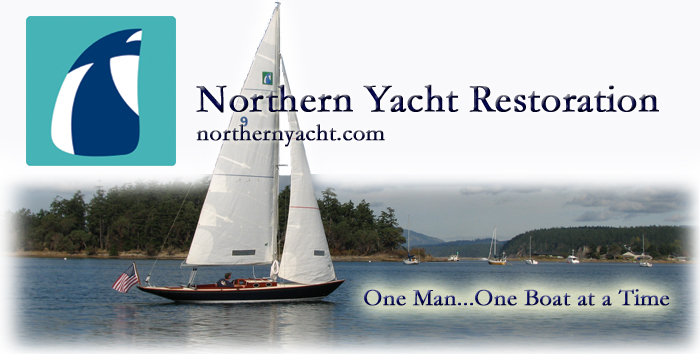 110 Cookson Lane | Whitefield, ME 04353 | 207-232-7600 | tim@lackeysailing.com
Home
| Contact Lackey Sailing |
Conversion Projects
|
Project Logs
|
Tim's Projects
|
Flotsam



Ensign #1212

| Wednesday, July 23, 2014

With an appointment in the afternoon and a short day planned, I got right back to work on the ongoing paint and brightwork. The new primer on the cockpit shelves and v-berth insert had dried overnight, and after a light sanding and cleaning I applied the first coat of semi-gloss white enamel to the parts.

Because the boat had been taped and covered for hull paint work when I built the new cabin doors, I'd not yet had a chance to test fit them in the opening. Before I got too far into the varnish process, I checked their fit, and found a need to trim about 1/16" from each door to allow proper closing.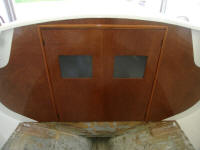 I continued work on the varnish, and after the usual rounds of sanding and cleaning, I applied another coat to the various pieces ongoing at the moment: starboard seat slats (5); cabin doors (4, just the interior side this time); vents (3).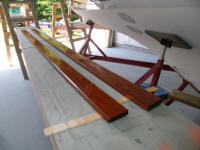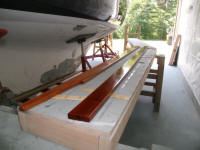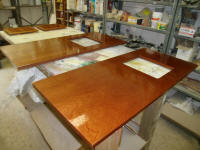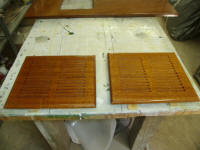 After water-washing and sanding as needed, I applied a layer of 17oz. biax material over the leading edge of the keel to reinforce the small patched area. Later in the day, when the fiberglass was firm but still green, I applied a coat of fairing filler over the area.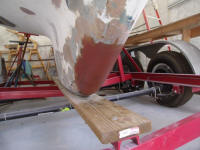 Preparing ahead for reassembling the boat and hardware, I pulled out all the old hardware and fasteners from storage, and began to go through them so I could clean things up as well as catalog and purchase new fasteners as required for reinstallation.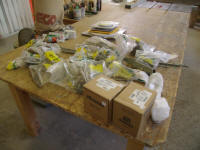 Total Time Billed on This Job Today: 4 Hours