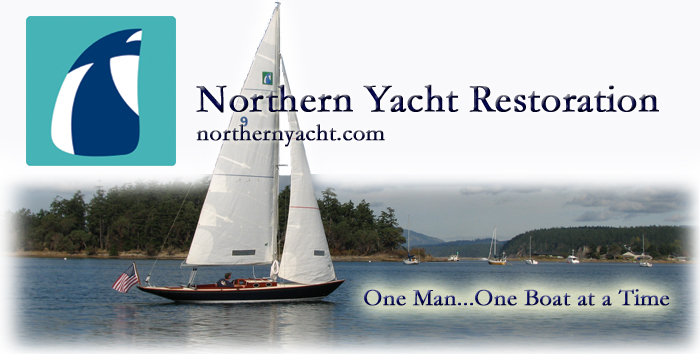 110 Cookson Lane | Whitefield, ME 04353 | 207-232-7600 | tim@lackeysailing.com
Home
| Contact Lackey Sailing |
Conversion Projects
|
Project Logs
|
Tim's Projects
|
Flotsam



Ensign #1212

| Tuesday, April 15, 2014

After the owner delivered the boat here in the fall, I'd built a simple frame and cover for the winter. With the boat now moved indoors, I began by removing the cover and frame. I still had a recently-completed project in the shop, so for the moment space was a bit cramped.

Next, I inspected and documented the as-arrived condition of the boat, beginning with the cockpit area. The mahogany and teak cockpit is one of the Ensign's hallmark features. In this case, years of storage had taken their toll on the finishes. The owner hoped to reuse most of the wood, and most of the cockpit seat slats and underpinnings appeared generally sound, but significantly weathered. The coamings were similarly weathered, but appeared generally sound at first glance, with some issued noted. The plywood doors to the cabin were heavily weathered, though structurally sound; whether the veneer could be restored to a varnish finish without damage to the veneer remained to be seen.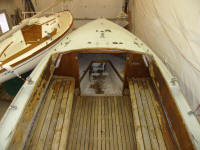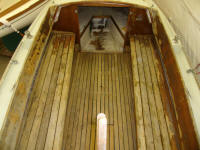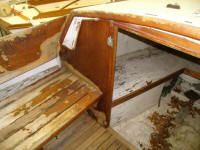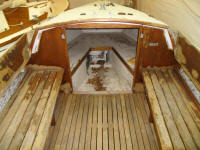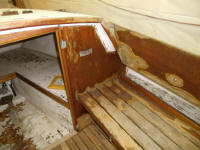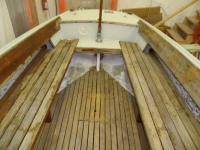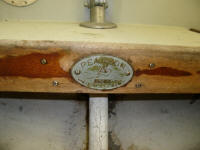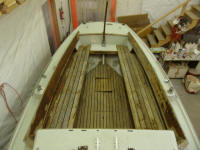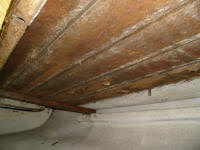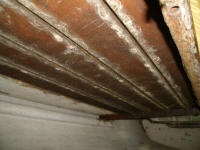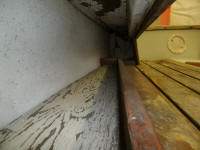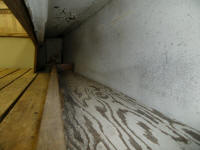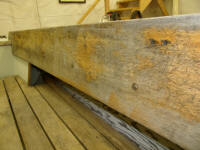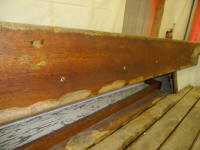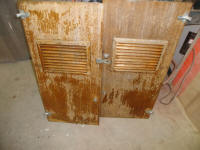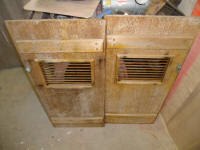 A few of the seat slats were rotted at their after ends and would require replacement. There was also significant water damage visible on the main bulkhead's lower edges, as well as at the limber hole in the center of the aft cockpit bulkhead. As I got into the job, I'd investigate these areas in more detail to determine the course of action required.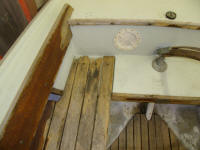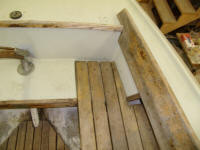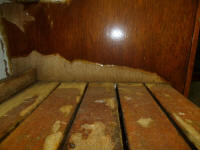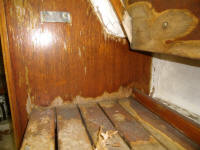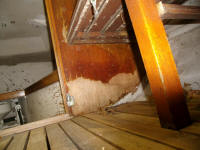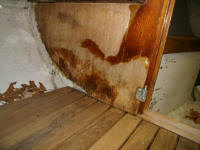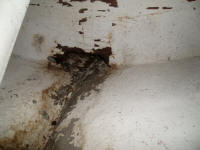 The teak cockpit sole was mostly in good condition, at least as far as the initial inspection was concerned, but the transverse support beams were in poor condition where observed. The bilges were in generally good condition considering the boat's age and history.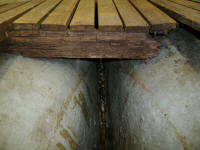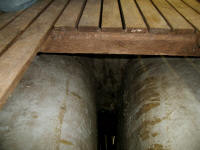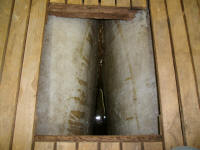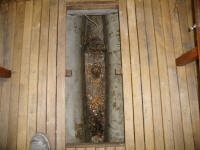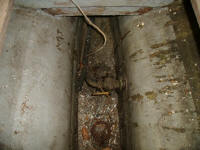 The tiller was completely delaminated and would require replacement.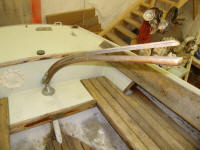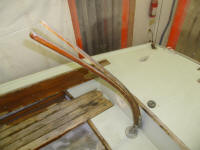 The cabin still featured a traditional head, which would be removed, along with its through hulls and plumbing. Otherwise, the cabin surfaces were in keeping with expectations. The external condition of the plywood structures appeared basically sound at this initial inspection, but further investigations later would tell the whole story. The condition of any flotation foam located within these structures was not determined at this stage.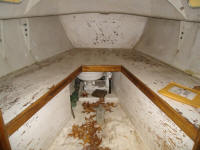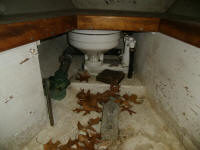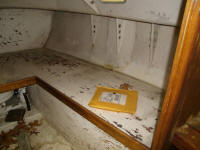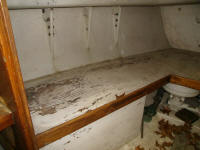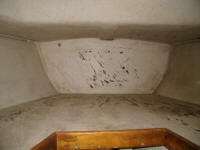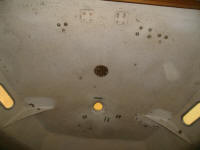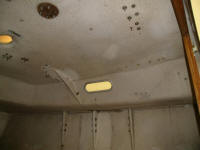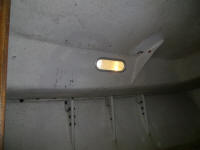 The decks appeared to be original, and in fair condition for all that.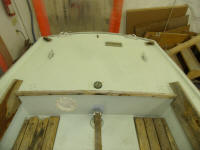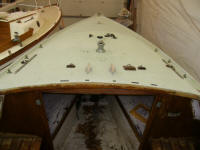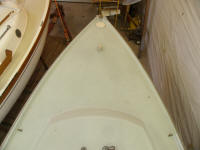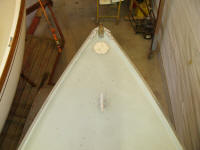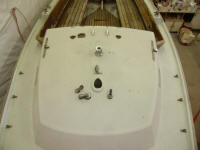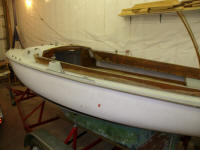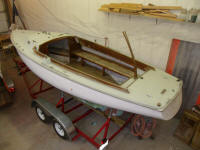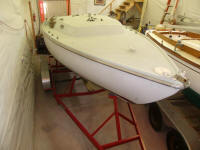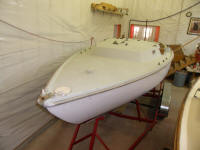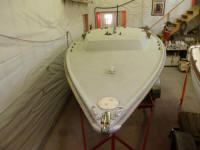 The hull would require plenty of restoration work, but of course that was why the boat was here.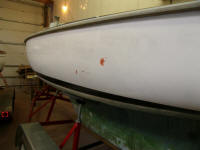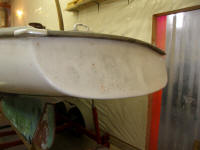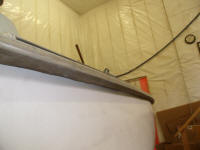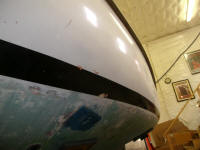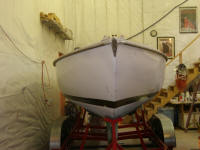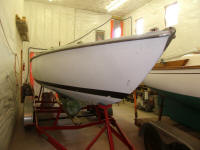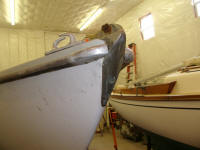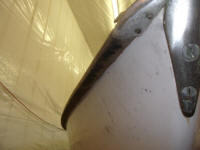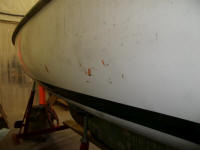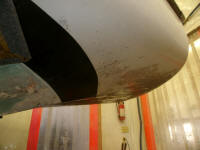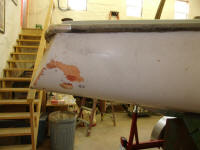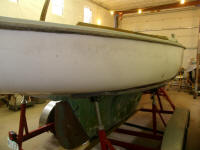 The bottom was in fair condition without too much bottom paint buildup. The mahogany rudder was in excellent condition for its age.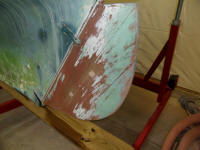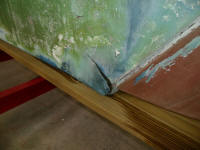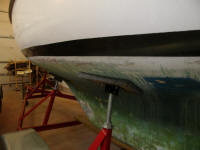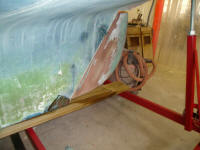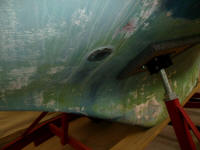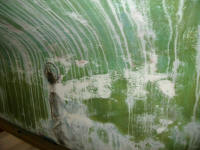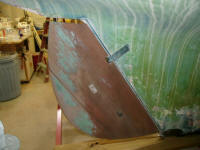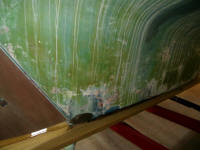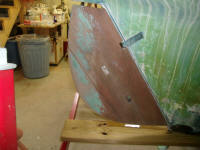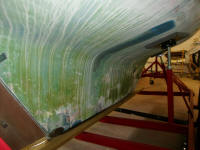 Total Time Billed on This Job Today: 1.25 Hours (Plus 2 additional hours since project inception in October 2013)