Systems: Cockpit Scuppers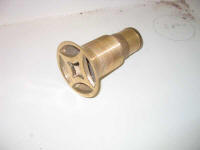 For the cockpit scuppers, I chose some handsome fittings from Spartan Marine, item # D255PB. These solid bronze fittings required a flush mount with a countersink, and for a while I wondered about the best way to install them.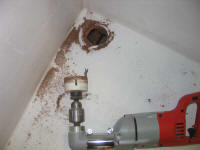 Eventually, I decided to bore a larger hole and set the fittings in flush with the sole, filling the remaining void as necessary with structural epoxy. First, though, I needed to choose their ultimate location at the forward end of the cockpit sole; during construction, I had pitched the cockpit sole towards the forward end to promote drainage.

Using the fittings and a spare length of scrap hose that I had around, I mocked up the fittings in several locations from inside the engine room, looking for a lack of obstructions and a clear hose run to the scupper seacocks. I settled on the outer cockpit corners, which met all the criteria well. After double-checking some measurements from below, to ensure that I would not drill into the cockpit beams or previously-installed wiring or hoses, I drilled a 2" hole using my big right angle Milwaukee and a hole saw.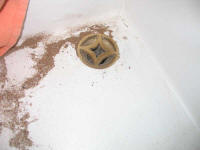 I was pleased to discover that the scuppers fit nearly flush in this hole, but remained supported by the very edge of the cast bevels on the fittings. With some very minor sanding around the top edges of the holes, creating a small bevel there, I managed to fit the scuppers perfectly flush, and with very little work.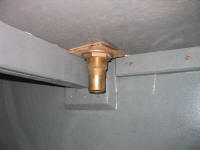 To install the fittings, I first cut some backing plates of 9mm plywood, in which I cut a hole about the same size as the threaded portion of the scupper fitting. This helped close off the opening of the larger hole from below, allowing me to fill the voids with epoxy, and also provided good support for the nut that secured the fitting in place.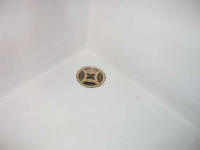 I mixed a batch of epoxy stiffened with cabosil to a very thick consistency, and covered the bottom of the scupper fitting bevel, and then pressed the fitting into the hole. From beneath, I worked the epoxy further, cleaning it up, and then installed the backing plate and nut. Finally, from above, I ensured that the scupper cross bars (a grate cast into the fitting) were properly aligned parallel to the centerline of the boat. I left the epoxy to cure overnight.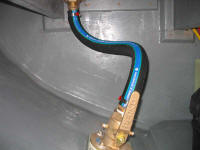 To complete the installation, I cut lengths of 1-1/2" wire-reinforced water hose to fit and secured it in place between the scupper fittings and the nearby seacocks. At the seacocks, I applied Teflon tape to the threads of a straight tailpiece and secured that in place before attaching the scupper hose. I secured the hose with clamps, finished off with silly little clamp tip ends, and the job was complete.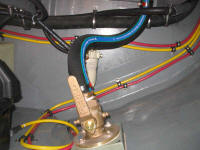 Back to the Main Menu>