From a Bare Hull: The Deck: Nonskid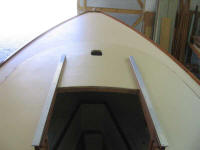 I painted all deck areas, other than those covered in wood, with Interdeck nonskid paint, choosing the beige color for its pleasing and traditional appearance. To continue the traditional looks of the boat, I elected to paint the nonskid directly to the edges of the decks and coachroof, with no white-painted channels or borders.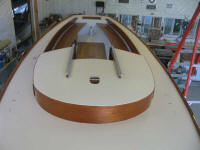 Application was straightforward, as the deck areas had been previously primed and now needed only cleaning and minor preparation and masking. Afterwards, I rolled on two coats, separated by 12 or more hours, using a 1/4" nap mohair roller and, in the tight areas, a foam brush.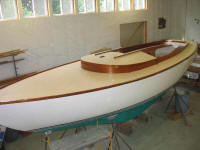 It was a vast relief to finally cover up the very tired whites of the Alexseal primer and the multi-colored epoxy and fiberglass of the coachroof. Note that the manufacturer calls for no primer over new fiberglass surfaces, which is why I did not prime the coachroof first.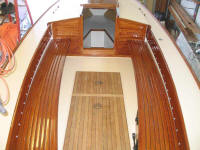 A few days later, in a separate process, I applied two coats of nonskid to the cockpit sole, completing the painting.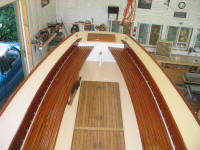 Back to the main menu>