From a Bare Hull: The Cockpit (Page 7)
Painting the Cockpit Sides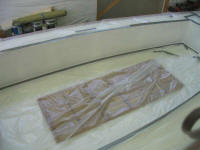 For some time, the cockpit had been in primer, as I had primed the entire cockpit along with the decks in preparation for final finishes. While I continued construction work, I left the decks unfinished.
The vertical sides of the cockpit well, however, required high gloss finish paint, while the remainder of the deck areas would be covered in nonskid. Little of the sides would actually be visible, hidden behind coamings and the cockpit benches, but they still needed the fine finish.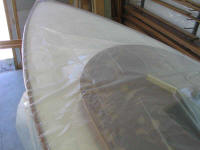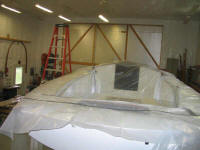 Preparation for final paint was a matter of masking off the vertical sides, top and bottom, and covering the remainder of the deck areas in plastic to prevent overspray. After vacuuming the cockpit and cleaning the primer with Alexseal surface cleaner and a tack rag, I sprayed two coats, over the course of an hour and a half, of Alexseal gloss Snow White, the same color used on the hull. The spraying went smoothly with no issues, and the paint looked good, and exhibited good coverage, after only two coats.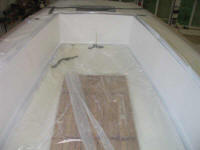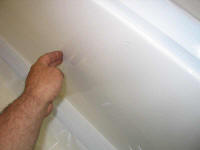 When the paint cured, I removed the plastic and tape, and left the new paint alone while it passed through its final curing stages over the next several days.
Back to Main Menu>