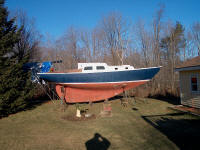 In December 2002, I decided to undertake an interesting, unique, and aggressive project: transform a derelict 1960 Pearson Triton hull into a new and stylish daysailor. The seed of the idea began to grow when I located a potential "donor" hull in Massachusetts, which was in poor enough condition to warrant the sort of drastic changes I had in mind.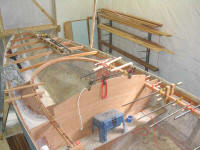 Over the next 2-1/2 years, I worked to first dismantle the existing boat, removing the decks and interior until all I had remaining was a hull shell, and to then rebuild the boat from scratch, using a vision that existed in my head as a guide. The project came to fruition in August, 2005, when I launched the boat in Maine for sea trials.
Why would I do such a thing? Well, for starters, I did it because I wanted the challenge of a new project, and because I felt that Carl Alberg's Triton hull design was well worthy of the reconfiguration ahead. I did it for the experience, for the fun of it, and, at least at the beginning, to help while away the long winters in Maine. From the beginning, I hoped to sell the boat when complete, even though from a purely mercenary perspective the project wasn't necessarily the most logical place to get my feet wet.

Progress Updates
During construction, I posted weekly construction updates to this site. By following the weekly logs from their inception, one can watch the entire build process, from initial demolition to launching. Contained in each week's log are links to detailed project pages that document each aspect of the build.
Click here to go to the log archives page.

If you prefer, you can view a chronological listing of the various projects by clicking here.

Click here for the chronological project list.