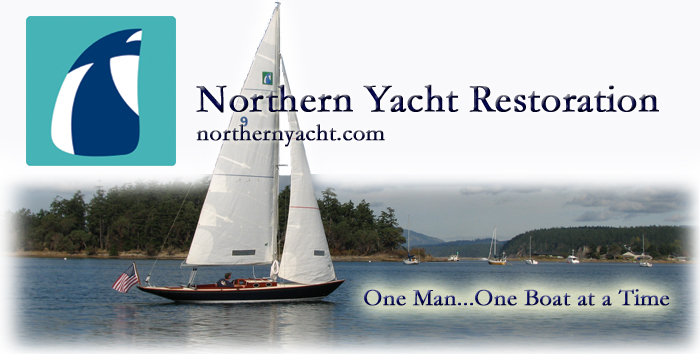 110 Cookson Lane | Whitefield, ME 04353 | 207-232-7600 | tim@lackeysailing.com
Crème de Menthe | Tuesday, January 25, 2011

The replacement halyard lift blocks for around the base of the mast arrived--well, two of the three required arrived, the third apparently on backorder or delayed through some other snafu--so I proceeded with their installation, which was the last item on my list for the moment. I'd have to install the third block at a later time.

Because of the known suspect condition of the deck core around the mast partners, I fabricated a single large backing plate from 1/4" fiberglass, through which I'd secure both of the halyard blocks on the port side and which I hoped would provide additional support. I considered this a temporary installation, since one way or another core repair to this and other areas would be required in the future.

Then, I installed the two blocks with new fasteners and sealant, and temporarily filled the fastener holes on the starboard side with sealant till the new block arrived and could be installed.

Afterwards, I cleaned up the boat, reinstalled her winter cover, and prepared to move her out of the shop for storage till later in the spring, when I'd wrap up the few minor jobs remaining (deck cleaning and battery installation, plus now the final halyard block installation).

Total Time on This Job Today: 2 hours