Circe | Tuesday, September 8, 2009

With the deck work beginning to wrap up, I began final preparations in the cockpit for the filling and patching work ahead: cleaning, solvent washing, and taping over various openings to allow filling. I also installed a cardboard and peel-ply "mold" to the large lazarette opening in the aft cockpit bulkhead to support the fiberglass patch. (Later, I'd cut a new hatch in the deck for lazarette access.)

Next, I filled the fastener holes with thickened fairing compound, and applied some to the larger holes that needed it to fill them flush with the edge of the ground-out tapered areas.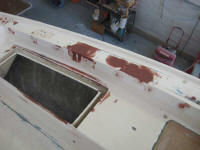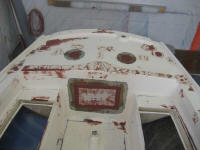 Next, I cut and installed fiberglass patches over the larger holes as needed, with 2-3 layers depending on the situation. This included patching over the old fuel fill opening, the engine gauge holes, cockpit sole-mounted shifter hole, lazarette, poop deck cowl vents, and a reinforcing strip around the edges of a pre-existing patch over the old icebox hatch in the cockpit seat. I left the fiberglass to cure overnight, and with nothing else to do at the moment worked on another project at the shop for the rest of the day.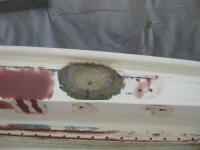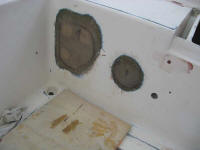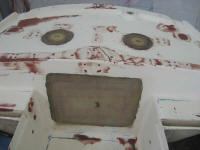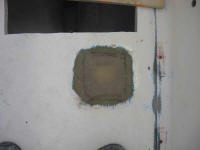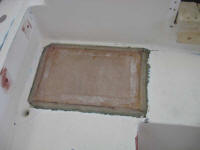 Total Time Billed on This Job Today: 4.5 hours