Circe | Monday, November 2, 2009

I had a short day, working only in the afternoon. To begin, I performed the usual ritual of washing and sanding the latest fiberglass: tabbing in the tankage compartments and galley, and the icebox. I also sanded smooth the black epoxy-coated edge around the sink opening in the galley countertop.

With that complete and the areas cleaned up, I applied a coat of plain epoxy resin to the inside of the icebox, to begin to fill the cloth weave and add additional thickness for protection. I also recoated the edge of the sink opening.

In considering the potential configurations of the remaining space in the head--the wide-open areas on either side of the sole and head platform--I threw together a quick cardboard mockup of a vanity cabinet on one side to give a sense of how something might work. The idea was to retain an open feeling in the head, while providing storage, room for a small sink, and simply something to eliminate the yawning, unfinished feeling that the space would have if no cabinets were installed. These mockups should be considered representative only in basic shape and configuration, not detail or dimension. I left a 12" steel rule in place for scale.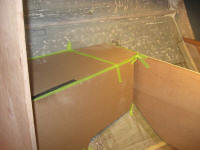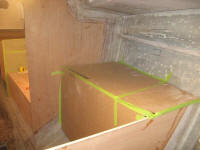 I also mocked up a small upper cabinet, filling in the aft corner above the countertop. Upon additional discussion with the owner, it was decided that this cabinet ought to extend all the way forward, where it would tie in with the eventual transverse bulkhead above the tankage area.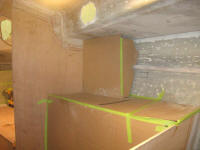 However, the lower cabinet seemed to be the ticket, so I could proceed with its construction--one on each side.

I measured up the stove cabinet so that I could order sheet stainless steel for the liner, and then milled a pile of cleat stock to use during upcoming portions of the interior construction, and cut four pieces to fit the inside edges of the tankage spaces to support the horizontal top platform. I installed these cleats with glue and screws, as usual.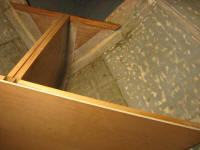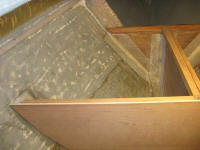 Total Time Billed on This Job Today: 4 hours