Circe | Friday, May 7, 2010

The next step in the cockpit grate construction process was to finalize the template. I cut out the plywood template I'd marked last time, and test-fit it in the boat. Because of oddities in the shape of the cockpit molding, I had to mark a few areas for additional trimming, after which the template fit appropriately.

Note that the round holes are just finger holes to allow me to lift the template in and out, and are irrelevant to the actual grate construction.

Next, I worked on some basic layout for the grate, drawing right on the plywood template. I marked out a 3" wide border all the way around, and laid out 1-1/2" wide slats with 1/4" gaps. The final grate would be in two pieces to allow access to the cockpit sole hatch, with the added benefit of easing general manipulation of the awkward grate, so I marked out this location just aft of the hatch location, allowing for a pair of 1-1/2" frame pieces that together would equal the 3" border found elsewhere.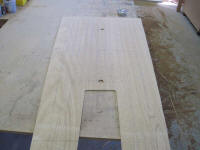 Next, I installed new blades in my surface planer and planed several rough 5/4 teak boards just till they were smooth. However, I planed one board, which I'd designated as the frame board, to a measured 1" thickness, since this would be the ultimate thickness of the finished grate.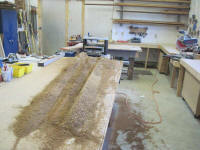 Next, I ripped the frame board into several pieces, each just over 3" wide, for the grate's frame; I left them wide since there'd be some trimming to make the outside edges match the template of the cockpit. I resawed and ripped the other teak boards into a series of 1/2" thick by 1-1/2" wide slats for the grate, after first sanding both faces of the uncut boards to save on sanding time after they were cut into slats. From each planed board, I was able to get two 1/2" thicknesses of slats, one from each face of the board, with no waste piece.

I lightly eased the top edges of all the slats with a sanding block, then cleaned up the day's planing and milling detritus. With all the pieces for the grate now rough-cut to size, I'd be ready to start construction next time.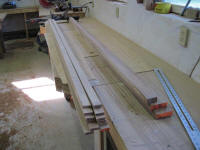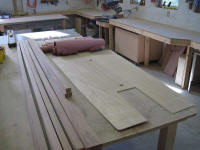 Total Time Billed on This Job Today: 4 hours