Circe | Thursday, March 11, 2010

It was a day largely revolving around wood milling, punctuated and shortened by unanticipated and unwelcome maintenance work on some yard equipment.

I began with a stack of cherry boards, which were to become the ceiling strips (hull liner). Before milling them into a series of narrow, thin pieces, I sanded both surfaces of each board through the various grits as needed, which would save me much in the way of sanding time on the strips later.

With the sanding complete, I milled 24 board feet of the lumber into a series of 1/4" thick strips, each 1-1/2" wide, which made the best use of the average board widths and looked best to my eye. I resawed each board twice along its 3/4" thickness dimension, which provided me with two usable strips out of the original board thickness, each strip with a smooth, sanded face; I set the 3/16" thick inner pieces, which had saw marks on both sides, aside for some other use someday. I wasn't sure exactly how many strips I'd need, so I stopped milling when I had a reasonable pile; it'd be simple enough to mill more later as needed.

With a sanding block, I lightly eased the top edges of each strip, solvent-washed each, and then applied a coat of tung oil to all the strips on all sides. I'd apply many more coats of the finish once the strips were installed in the boat, but for now I wanted to coat the back sides before installation. I set the strips on some stickers on the floor to dry overnight.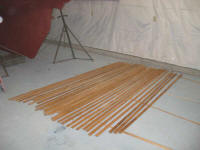 Similarly, I milled some Honduras mahogany boards into strips to use for the cabin sole. This time, I didn't bother with sanding the boards' faces first, since I'd have to sand the sole after installation anyway.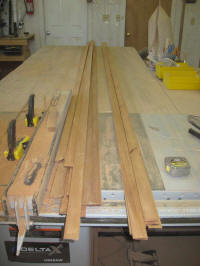 Next, I worked on the lazarette hatch. With the inner lip in place, I confirmed my measurements from earlier and milled strips of Honduras mahogany to create a frame for the hatch; I kept the frame as low as possible to maintain a low profile for the finished hatch.

After a test-fit, I epoxy-glued the frame together and set it aside overnight. I was going to glue up a blank for the top of the hatch, but discovered that the hatch was narrow enough that I had a board that would fit without the need for a glue-up.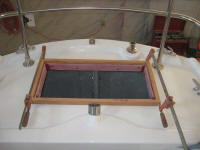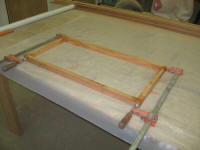 Finally, I sanded and revarnished the swashboards and interior companionway trim.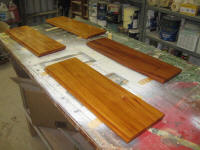 Total Time Billed on This Job Today: 6 hours