Circe | Monday, March 1, 2010

After checking the fit of the glued-up companionway trim pieces from last week, I removed all the temporarily-installed companionway trim and, down on the bench, rounded edges as needed and sanded all the pieces through several grits, ending at 220. Then, I applied a sealer coat of varnish. Late in the day, I applied a second coat.

Next: deck hardware. First, I laid out and drilled fastener holes through the new fiberglass risers for the rope clutches and deck organizers on the coachroof, which I'd built a few weeks ago. Then, I laid out the positions of these items on the coachroof--along with the pair of halyard winches--and outlined them with tape as needed. Finally, I marked the fastener holes and drilled large holes through into the deck core to remove the core from the fastener areas.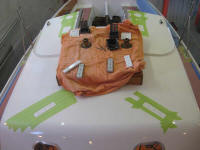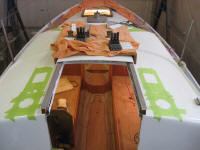 Similarly, I laid out the positions for short handrails on each side of the coachroof, taped around their bases, and marked and drilled core isolation holes through the top portion of the deck.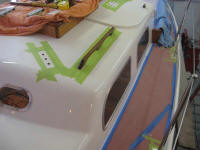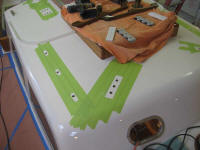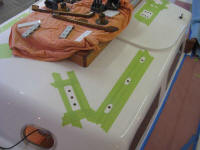 On the foredeck, I determined a position for the mooring cleat and followed the same procedure; I also located and drilled for an existing chainpipe for the anchor rode.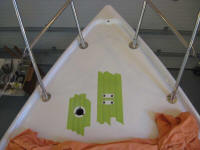 Once all the holes were drilled, and the detritus cleaned up, I filled the oversize holes with a thick epoxy mixture and left things to cure.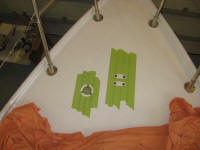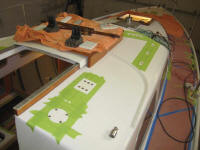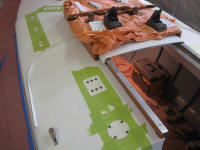 I'd put off the installation of the stem casting long enough: time to do it. I installed the bronze stem piece in a heavy bed of polysulfide caulk and secured it with new bronze fasteners, then cleaned up the excess sealant.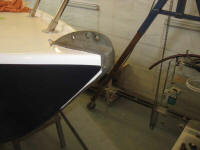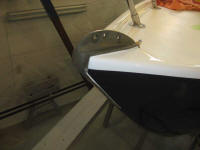 Preparing for the upcoming bilge pump installation, I located and installed a flanged through hull discharge in the starboard side of the counter, symmetrical with the exhaust outlet on the other side.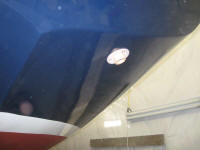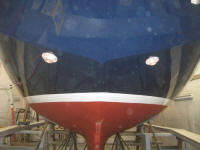 Next, I continued deck hardware layout on the poop deck--stern cleats and chocks. In an attempt to keep the deck as clear as possible, I located the cleats well to the side, where they'd have a fair lead to the taffrail-mounted chocks. Since there was no core in this deck, I permanently installed the cleats with new fasteners and backing plates.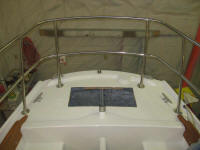 To end the day, I applied a coat of varnish to some of the interior trim around the galley.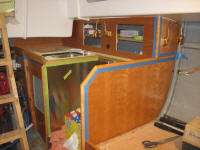 Total Time Billed on This Job Today: 9 hours