Circe | Thursday, December 10, 2009

Continuing with my work list that I needed to complete by early January, for the canvas and upholstery work, I devoted the entire day to the beginnings of the ceiling in the main cabin (that's the inside hull liner, not the overhead).

The ceiling was to be made from cherry strips, which would cover the exposed hull above the settees and between the various cabinets that I'd already installed. But the first order of business wasn't pretty cherry wood, but boring and ugly pieces of foam and wood required to create the support structure to which the ceiling could eventually be secured.

I began with some layout and measurement to determine the location of the support strips, beginning with the known and fixed structures (cabinets) that were in place. On each side of the boat, I divided the distance between the cabinets and bulkheads into even spacing for the support strips, so that the exposed screws would line up in an appropriate and planned pattern, and made layout marks as required.

In order to clear some pre-existing longitudinal stringers that were in place, the ceiling supports needed to be relatively deep: about 1-1/2". To create the basis for this depth, I chose 3/4" Corecell foam, which I cut into 1-1/2" deep strips. Corecell can be thermoformed--bent with heat--so this made the material a good choice for conforming to the curves of the hull. One by one, I cut and formed the Corecell strips into the hull curvature, and secured them to the hull with hot glue.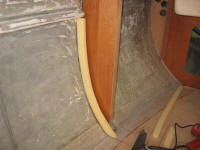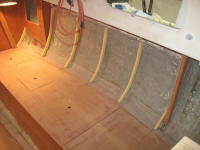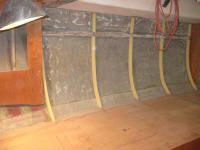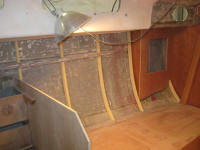 I prepared 1/4" thick strips of mahogany, and then cut them to fit and bent them into place on top of the Corecell backer, securing them with the glue gun; the wood would provide the bite for the screws during final installation of the cherry ceiling. I eased the edges of the strips to aid in the next step.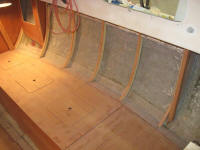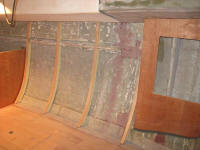 To secure the ceiling substructure, I applied a layer of 10 oz. fiberglass cloth over the top of the assemblies. Before beginning this task, however, I masked off the bulkheads and cabinets to keep them clean, as clearance was tight at the end locations and I knew it'd be impossible to force fiberglass in the small gaps without marring the varnished wood. This chore consumed the remainder of the day.

Still ahead lay fitting and installing two additional support strips, at the aft end of the starboard settee, in way of the electrical locker; I'd need to install the locker front before continuing this.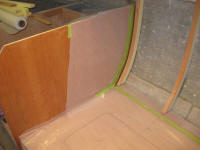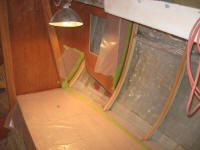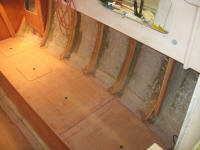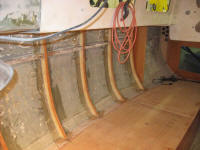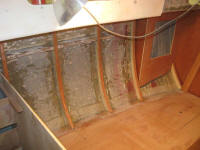 Total Time Billed on This Job Today: 8 hours