Bolero Project | Thursday, June 12, 2008

I spent nearly the entire day milling the stock for the toerail.

I began with the raw teak stock: two boards, each somewhat over 16' in length, about 1-7/8" thick, and 7-8" wide with rough edges.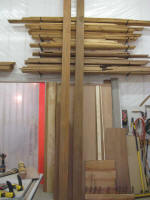 My first step was to straighten one edge of each board, accomplished with a chalk line, 8' straightedge, and circular saw. With one straight edge to hold against the table saw fence, I milled six 1-1/2" square pieces, three from each board, taking several cuts to create each piece in such a way as to maximize straightness and accuracy. To register each piece in the proper orientation, and to keep the blanks from each board together (for best grain matching), I numbered each piece on the end grain.

To mill the long pieces in my shop, I had to drag my saw several feet away from its normal position, and run the other end of the stock outside through the shop door in order to feed the pieces into the saw.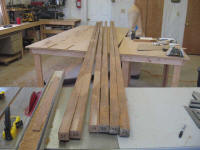 The cutting steps to bring me to this point created a fair pile of sawdust.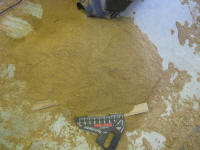 Next, I measured the length of the boat along the gunwale from stem to stern, to ensure that two pieces of this stock--each a few inches over 16' in length--would provide adequate overall length for the toerails. The actual (and conservative) measurement on the tape was 30'-4".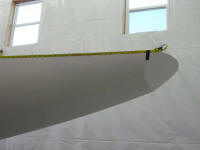 Choosing my four favorite pieces from the six available--two from each of the original boards--I began the multi-step milling process to create the chosen profile. From one of the "scrap" pieces, I cut a short length of the stock to use for testing the tool setup for each step before applying it to the actual work, and used my toerail mockup and setup notes to guide me through the process.

First roundover: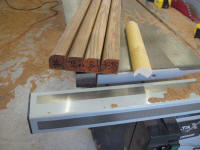 Second roundover: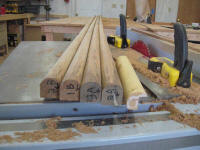 First cut to create the overhang: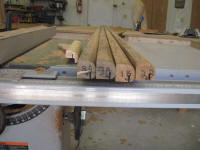 Second cut to create the overhang: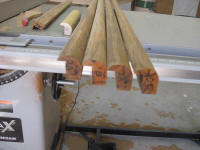 Final cut--10° on inside edge: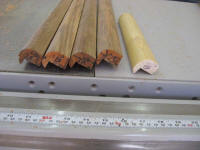 Completed blanks: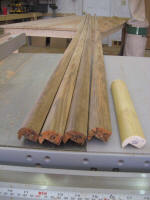 With the milling complete and four blanks at the ready, I cleaned up the shop. Before continuing with the toerail, however, I decided to sand and re-varnish the cabin beams, in order to keep that process moving along; the day was nearly done.

In the time remaining this day, I sanded one of the toerail blanks with 120 and 220 grit to further smooth and blend the profile, and to remove tooling marks, and wrapped things up with a phone conference with the owner about a variety of the upcoming and final details of the project.

Total Time on This Job Today: 7.5 hours