Bolero Project | Tuesday, June 10, 2008

I had to leave the shop on other business during the afternoon, so with this in mind I hoped to make the most of the morning's work time.

I began with the coachroof and companionway. Starting with the plywood pieces, I sanded with 220 grit the primer that I applied yesterday, and then test-fit each piece on the boat, clamping each temporarily in place so I could mark the beam locations and the basic outline of the cabin trunk on the undersides.

With each piece duly marked, I cut off the excess material outside of the lines I'd struck, leaving a just bit of excess for final trimming after installation for an accurate fit. Then, I drilled pilot holes through the plywood at the beam locations to help me in locating the screws that I'd used to secure the overhead later on. After sanding off the remaining pencil marks, I cleaned the plywood and applied a coat of semi-gloss white enamel, the first of several required.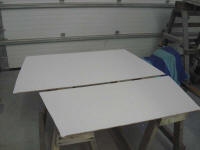 I continued with the companionway opening. With the cabin beams now permanently secured, my next step was to cut and head off aftermost beam to make way for the opening. I laid out the cut lines on the beam as required, then clamped soem scrap in place to support the beam while making the cuts. Using a handsaw, I cut off the center portion of the beam along the layout lines.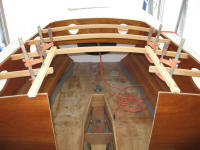 Next, I cut and fit two longitudinal pieces of mahogany to span between the aft bulkhead and the next full cabin beam, thereby defining the sides of the companionway opening. Once the fit was satisfactory, I milled chamfers and sanded the pieces to match the existing cabin beams, and secured the new pieces in place with epoxy, clamping them until the adhesive cured.

I sanded smooth and cleaned up the new mast collar that I built yesterday, and milled rounded edges on the inside and outside of the top surface. Then, I removed the primer from the deck in way of the mast partners, and secured the collar in place with epoxy, creating small fillets around the inside and outside edges to begin the smooth transition of the piece into the adjacent deck.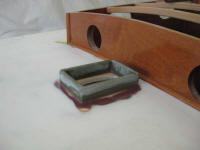 I rounded out the day's work with an additional coat of tung oil on the new ceiling, and more sanding and varnish on the cockpit seat supports.

Total Time on This Job Today: 4.25 hours