Bolero Project | Monday, July 28, 2008

I began with the final bits of hardware installation: the traveler and its related swivel block base, and the oarlock sockets.

I through-bolted the traveler with its varnished risers, then placed the swivel base with its attached cam cleat as far forward towards the cockpit as I could given the obstructions located beneath the deck, namely the old, glassed-in socket for a now-eliminated boom crutch.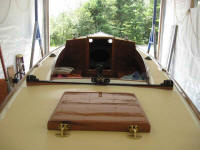 For the oarlock sockets, I simply drilled for the four mounting screws, and marked and drilled the center hole through which the socket body could pass. I attached the sockets with a bit of sealant and #10 machine screws with fender washers and nuts.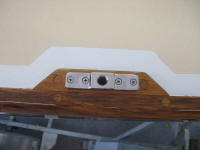 Next, I cleaned up all the tape and sealant left over from the ports' installation yesterday.

I applied a final coat of semi-gloss white paint to the v-berth platform and its hatches, and then painted out the cabin bilge, cockpit bilge, and after hull locker with gray Bilgekote.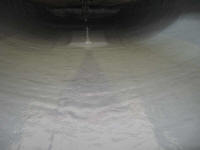 I sanded and revarnished several small parts, including the cabin sole, companionway hatch, and swashboards: satin varnish on the cabin sole (final coat), and more gloss varnish on the other parts as I continued the buildup.

I installed three 5" aluminum halyard cleats on the mast, completing the mast work.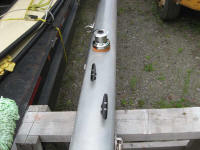 After a discussion with the owner, I decided that the cockpit sole grate would look better if I removed a section of the slats in way of the bilge pump mount, since the mounting screws had ended up annoyingly close to the plank seams, and replaced the missing slats with a section of solid teak. So I routed out the area as needed and epoxied in a teak block of the correct size, after cutting out the pump handle slot as needed.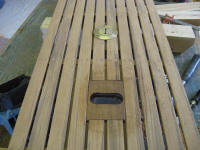 The owner's single, two-piece oar needed some custom underdeck storage in order to secure the pieces beneath the sidedecks and outboard of the cockpit when not needed. To this end, I made up some teak blocks, and cut holes and slots as needed to secure the oars. I needed one piece of hardware to help secure one of the oar pieces, which I ordered, but I couldn't complete and install these today. I'll post more details on the operation when I get to that point.

Finally, I made up some little mahogany gussets to be installed behind the cockpit seat fiddles for extra strength, and applied some varnish.

Total Time on This Job Today: 9.25 hours