Bolero Project | December 21, 2007

Today wasn't a big day, but I got a few things done.

I water-washed and sanded the new fiberglass in the cockpit. It looked like I'd need one more layer on the horizontal portion of the sole to bring it up level with the adjacent, existing areas, but for now I left this undone since I was nearly out of epoxy after yesterday's work.

With a few things in limbo and the holiday break coming up, there wasn't anything new I wanted to get going, so I cleaned up the boat and shop--badly needed after sanding the high build--and organized some thoughts for the future work.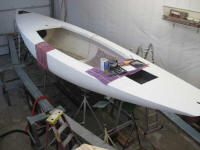 Afterwards, my lumber delivery for the boat arrived, and I spent time unloading the truck and, afterwards, organizing and storing the lumber for future use; I set aside a number of specific boards destined for another boat, and then stored the remaining wood for Bolero. My order included 8/4 teak for the toerails, lots of 4/4 mahogany for a variety of construction tasks, and 4/4 cherry for the interior trim and the like. I also ordered several sheets of Meranti structural plywood, cherry plywood for the interior (exterior grade glue), and an oversize sheet of Shelmarine Sapele plywood for the main cabin/cockpit bulkhead, which would be over 4' from top to bottom.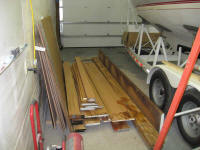 I'm not sure what happened, but I'd ordered 4/4 mahogany with a minimum usable size of 12' long and 13" wide for the cabin trunk and coaming assemblies. While going through my stock after delivery, I didn't see any 4/4 pieces of this size, though there was a massive 16' long, 13" wide piece of 8/4 on hand--enough for the two pieces required, but I had no way of resawing this myself. Still, it appeared this is what they sent me to satisfy this part of the order; I'd have to figure out somewhere to take it for resawing in half, or else swap it out with the lumber company later. In the event, it was here for now, and I'd have to deal with it later.

Toerail stock, with the oversize mahogany board alongside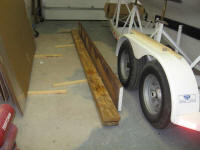 Cherry and mahogany, and plywood

Total Time on This Job Today: 3.5 hours