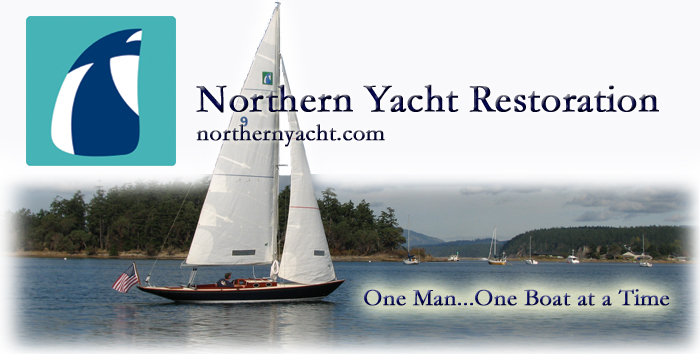 110 Cookson Lane | Whitefield, ME 04353 | 207-232-7600 | tim@lackeysailing.com
Home
| Contact Lackey Sailing |
Conversion Projects
|
Project Logs
|
Tim's Projects
|
Flotsam

Ashantee | Thursday, January 22, 2015

After final preparations, including kerf-filling, epoxy-coating, and edge gap-filling, I installed three layers of 1708 fabric on the poop deck repair.

Turning back to the coachroof, I washed and sanded the area as needed, lightly scuffing the whole surface and smoothing the edges and the transition to the surrounding deck areas. This left the surface ready for final fairing and surfacing steps.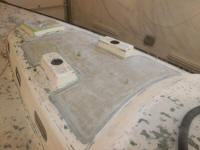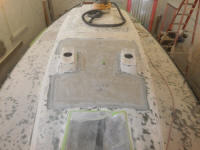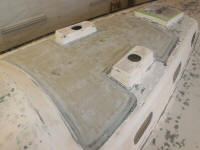 Going around the deck in detail, I bored out with a countersink most of the existing fastener holes to prepare them for filling--even those I planned to reuse. This would allow room for filler in the openings. Later, before painting, I'd mark the hole locations I planned to reuse, but all hardware locations would benefit from fresh, new holes in any event.

In cored areas of the deck, I bored out the fastener holes with a large diameter bit to remove coring down to the inner deck skin, large enough openings to allow the fasteners to pass through the centers. Again, I'd mark the hole locations before paint covered the soon-to-be-filled holes.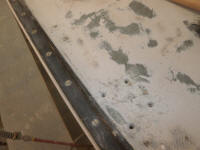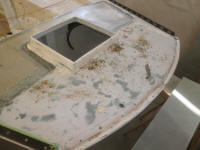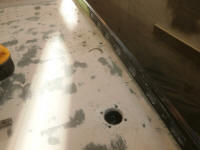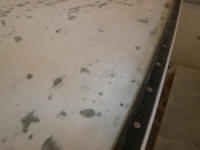 On the starboard sidedeck, an earlier top-skin delamination repair had produced numerous small, mostly-filled holes that had been buried beneath the old deck covering material. To better hide these from eventual transfer through the paint system, I ground each area out into a small depression, giving a wider area for filler with indistinct boundaries. Filling and fairing would be underway soon.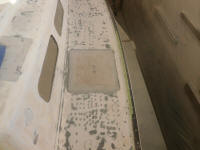 The final area of the deck to address for significant structural work was the cockpit sole, which I turned to now. Marking the boundaries of my cut, I followed with a saw, removing the top skin of the sole--and most of the core--in one piece.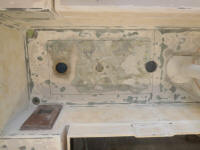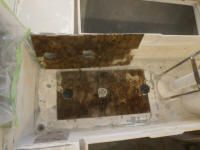 After removing the damaged core and reaming out the edges of my cutout as required, I sanded the inner skin clean, and ground the edges of the repair to accept new fiberglass later. This, along with a thorough cleanup, brought me to the end of the day.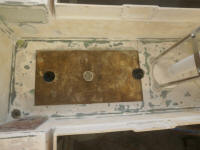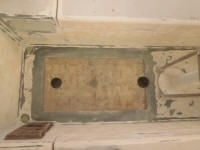 Total Time Billed on This Job Today: 6.75 Hours