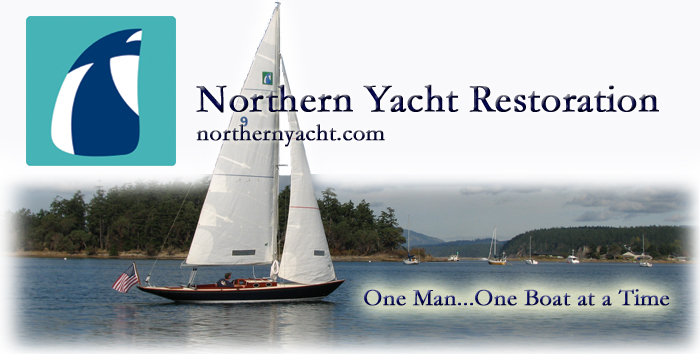 110 Cookson Lane | Whitefield, ME 04353 | 207-232-7600 | tim@lackeysailing.com
Home
| Contact Lackey Sailing |
Conversion Projects
|
Project Logs
|
Tim's Projects
|
Flotsam

Ashantee | Tuesday, February 17, 2015

After a light sanding and requisite cleanup for the overhead, I applied the first coat of flat white enamel.

I started preparations for exterior primer work with the waterline. Using measurements of the original location of the waterline I'd taken early in the project. I set up to restrike the line, beginning with some minor adjustments to level the boat from side to side on her blocks, and partially dismantling portions of the staging to allow access as needed.

Because of the existing scum lines I'd noted at the beginning of the project and other factors, I chose to strike the new waterline a bit higher than the original, for better appearance, to limit fouling, and to keep the new hull paint clear of constant submersion. With my base marks determined from the old measurements, I set up level horizontal beams at stem and stern at the new height, and strung a tight string between, just touching the hull amidships to demark the planar waterline from bow to stern. From there, working from the midpoint first to the stern, then to the bow, I pulled the string in incrementally, taping it in place and making a series of marks on the hull at the line, establishing a visually straight and planar line parallel with the boat's attitude in the water. With one side complete, I repeated the process on the other side.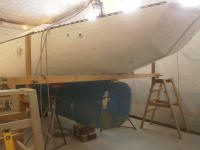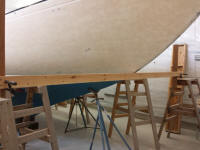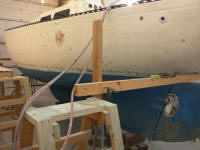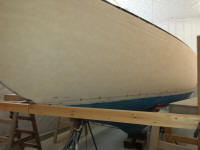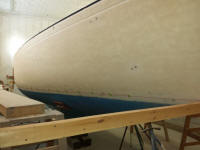 Removing the braces and line, I applied masking tape to my tick marks on the hull, demarking the top edge of the bottom paint and bottom of the eventual hull paint/boottop.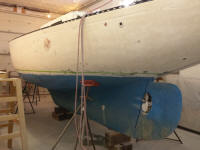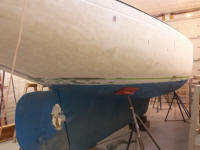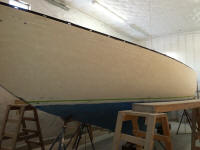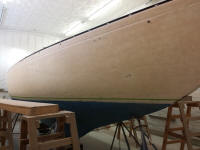 Afterwards, I installed a strip of paper beneath the taped line to protect against overspray, and later reinstalled the staging so I could continue work on deck.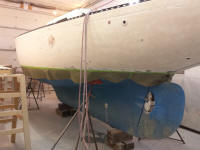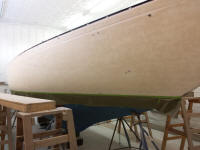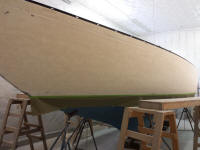 Total Time Billed on This Job Today: 6.5 Hours