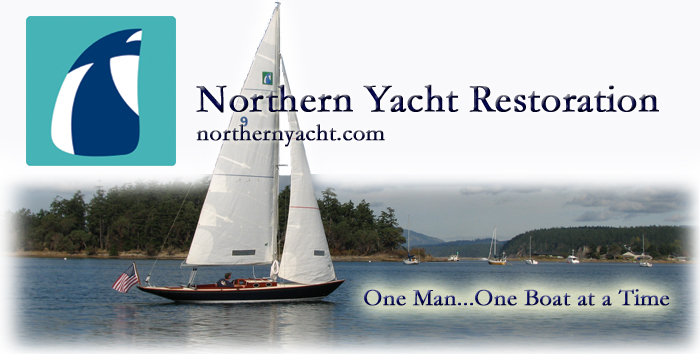 110 Cookson Lane | Whitefield, ME 04353 | 207-232-7600 | tim@lackeysailing.com
Home
| Contact Lackey Sailing |
Conversion Projects
|
Project Logs
|
Tim's Projects
|
Flotsam

Ashantee | Wednesday, February 4, 2015

Continuing to wrap up some of the final stages of the major deck preparation, I spent the morning sanding, mostly in the cockpit, taffrail, and on various hatches that I'd started earlier to take care of the most recent round of fairing compound. I also removed the paint and green stuff from the fiberglass mast step.

Once that was done, I went over the entire deck with finer paper and an orbital finishing sander, the last step before pinhole and detail filling with a finer filler material. Feast your eyes, dear reader: excitement awaits your click on any of these photos.

With a heat gun and scraper, I stripped the old finish from the companionway trim, then sanded the wood smooth and as clean as it was going to get, going through the grits to 220. The bright red of the old mahogany filler stain that muddled the appearance of the wood in its beginning state reminded me of Chinese pork ribs.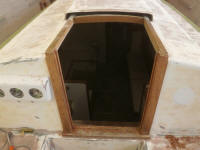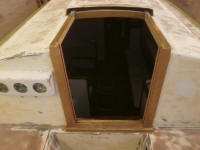 Now that the taffrail was at its final contours after my sporadic rounds of fairing and shaping over the past weeks, I added a layer of 10 ounce fiberglass cloth over the area, encapsulating the filled area and reinforcing it while overlapping and tying it in slightly with the adjacent surfaces. There'd be some minimal fairing work required to finish off this area completely.

On the cockpit sole, I used a drum sander to clean up the inspection port/bilge pump holes from the last rounds of fairing compound, and also cleaned up the existing opening above the rudder post so I could fill the edge with thickened epoxy, replacing the core that I'd earlier reamed out of the opening.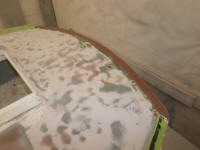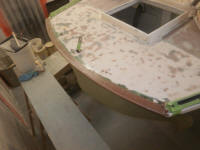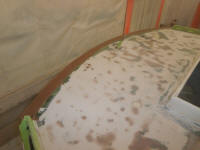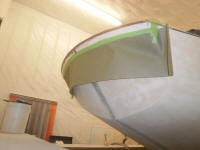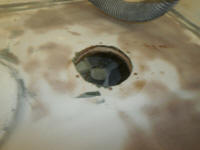 Total Time Billed on This Job Today: 7.25 Hours