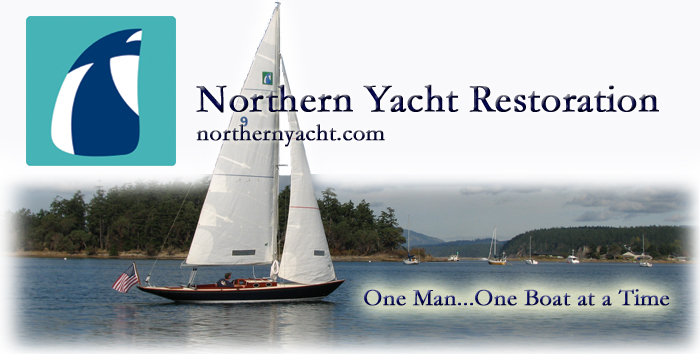 110 Cookson Lane | Whitefield, ME 04353 | 207-232-7600 | tim@lackeysailing.com
Home
| Contact Lackey Sailing |
Conversion Projects
|
Project Logs
|
Tim's Projects
|
Flotsam

Ashantee | Friday, December 19, 2014

Picking up where I left off, I continued sanding the upper sections of the hull: down the remainder of the starboard side, across the transom (old name: Blue Horizon), and up the port side. As before, I sanded each area with two separate grits to remove the paint. Later, after the minor repair work as required to fill small dings and gouges, I'd finish-sand the hull through 120 grit to prepare for primer. I'd do various hand work, including removing the vinyl cove stripe and cleaning up its molded recess, in the coming days.

I had initially thought that I'd leave the anchor platform--which featured two brackets bolted to the forward part of the hull--in place, as I thought at first that a critical cross support member was welded in place to a bracket secured along with the stem fitting, meaning there appeared to be no easy way to remove it without getting into the stem fitting itself, which on balance I saw no reason to. But as I was sanding in the area, I noticed that while indeed a support was welded as suspected, the cross tube itself was loose within the support, held with a set screw. Given this, I thought I could remove the hull brackets and let the assembly swivel out of the way on this part of the mount, leaving it attached at the stem.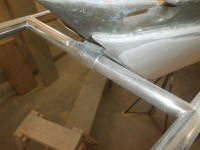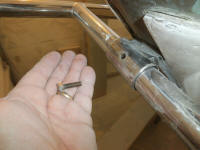 Removing the set screw, next I went into the boat and, from the chainlocker, removed the nuts and backing plates from the hull brackets.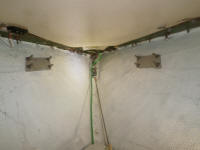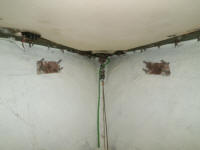 Back outside, I removed the four bolts from each bracket and swiveled the anchor platform out of the way. I'd clean up the bracket mounting locations and nearby areas next time, when I planned to work on the minor hull repairs required.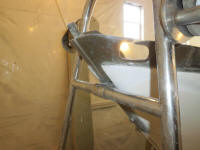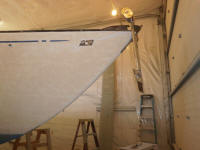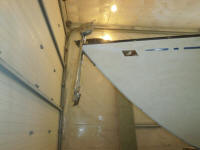 Total Time Billed on This Job Today: 5.75 Hours