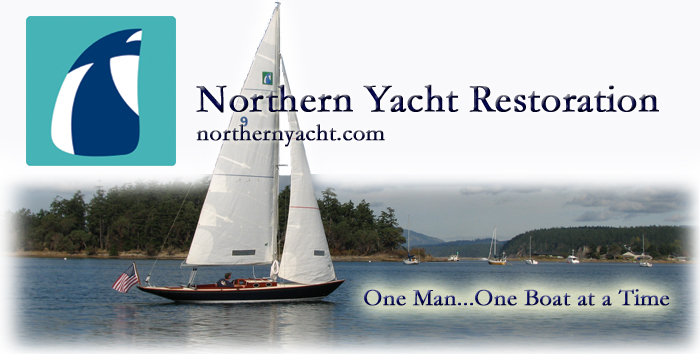 110 Cookson Lane | Whitefield, ME 04353 | 207-232-7600 | tim@lackeysailing.com
Home
| Contact Lackey Sailing |
Conversion Projects
|
Project Logs
|
Tim's Projects
|
Flotsam

Ashantee | Thursday, April 30, 2015

The epoxy-filled fastener holes were ready for action, and I had new fasteners on hand for the job, so I got to work on the bronze winch bases. One side at a time, I marked and drilled the holes through the epoxy-filled deck, applied sealant, and installed bolts to secure the bases to the deck and through the coamings. Belowdecks, I added fiberglass backing plates to spread the loads.

Next, I installed the winches on the new bases, cleaning and relubricating the bearings and gears during reassembly.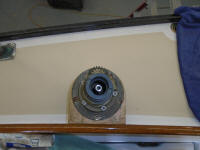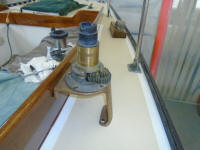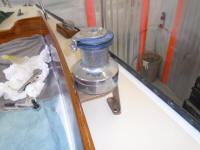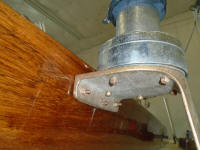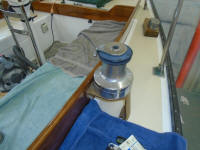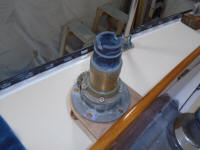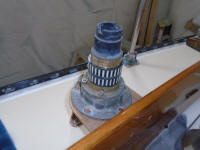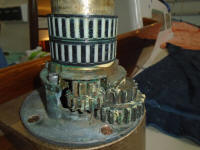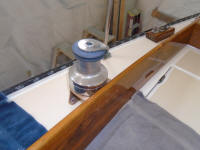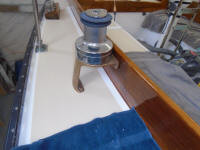 I spent a little more time looking into the issue the owner had mentioned with the interface between the individual instruments (speed, depth, wind) and the plotter display at the helm. I checked the connecting cables where I could, but in the end I could find no obvious issues unless a cable was damaged somewhere out of sight. Certainly each display worked fine individually, but without any input to the individual instruments it was hard to know whether the blank displays on the plotter were reading as they did because the interface was interrupted, or simply because no data was available with the boat in the shop. Frankly, I'd reached the limits of my knowledge on such things.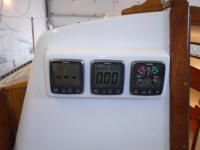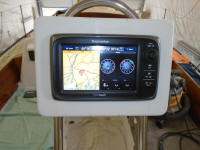 Now that work was more or less at an end, other than some insignificant final details and the canvas and upholstery work, I went ahead and reinstalled the steering wheel--what should have been a simple and quick chore. But the wheel went on the shaft very tightly, and only went on about halfway before screeching to an inexorable halt. I recalled that removing the wheel at the beginning of the project had been hard (I'd needed a puller), but I figured that was more a factor of age. Knowing this, I'd cleaned up the shaft a bit first, and applied some waterproof grease, but this was to no avail and now the wheel was stuck halfway on.

Using a puller again, I removed the wheel, and attended to the shaft once again. There were some nicks about halfway down, which appeared to be the culprit, and I sanded the shaft carefully till I removed them all the way around. I tested the wheel hub several times, and stopped my cleaning efforts only when I could slip the wheel on with ease.

Finally, I greased up the shaft again and permanently installed the wheel: a two minute job that required 60.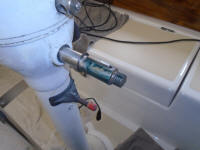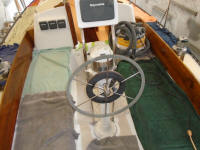 Meanwhile, I continued the varnish work on the cockpit table.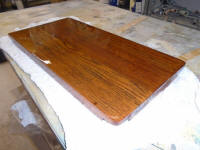 Total Time Billed on This Job Today: 5.5 Hours

0600 Weather Report:
45°, cloudy. Forecast for the day: mostly cloudy, 50s.