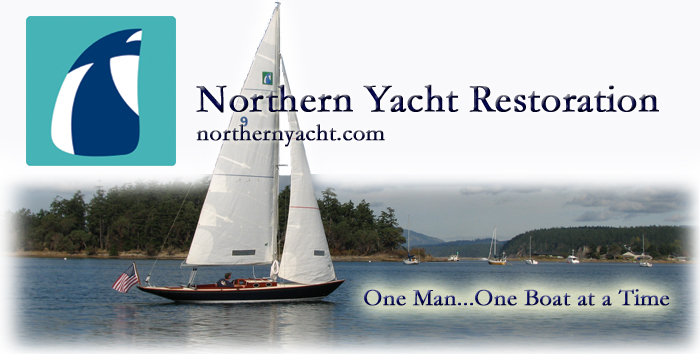 110 Cookson Lane | Whitefield, ME 04353 | 207-232-7600 | tim@lackeysailing.com
Home
| Contact Lackey Sailing |
Conversion Projects
|
Project Logs
|
Tim's Projects
|
Flotsam

Ashantee | Tuesday, April 28, 2015

Now that the coamings' varnish was done, I could move forward with the final hardware installation on deck: the new bronze winch bases. These required bolts through the coamings, as well as through the deck.

After determining the position for the bases, using the old coamings as a guideline, I masked off the deck and coaming in the appropriate areas and set the base in place, one side at a time. After marking the hole locations, and the base's footprint, on the tape, I drilled the holes through the coamings for the three bolts there, countersinking the surface to allow the heads to lie flush.

On deck, I used a 5/8" Forstner bit to open up the deck in way of the eventual fasteners and remove the core, leaving the inner deck skin intact. Afterwards, I filled the holes with thickened epoxy, leaving it to cure before continuing with the installation. In the new countersinks in the coamings, I dabbed in some varnish for protection and to color the wood.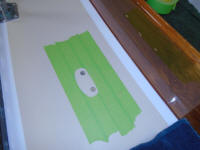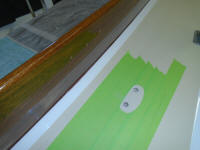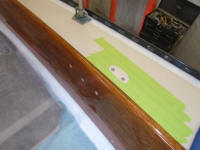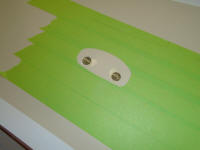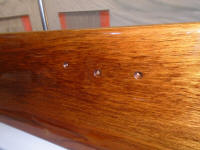 To spruce up the cabin sole, I started by masking off the boundaries of the sole all the way around. The original sole was in fair condition overall, but probably hadn't been touched or refinished since the boat was new.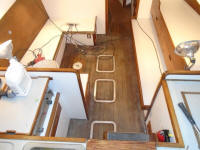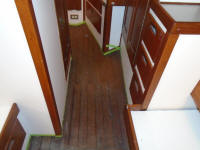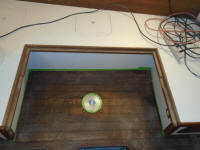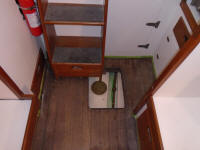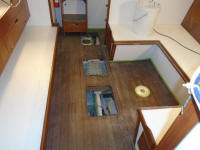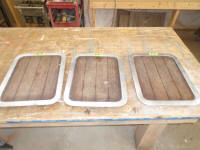 Next, I sanded the sole to scuff and clean the surface and prepare it for its new coat of varnish, vacuuming and solvent-washing afterwards.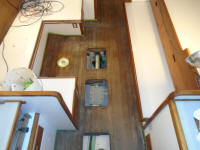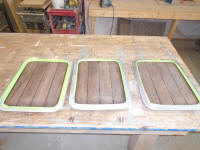 Finally, I applied a coat of satin varnish, which frankly had an incredibly positive effect on the sole's appearance, better than I'd even imagined and especially considering the minimal time investment.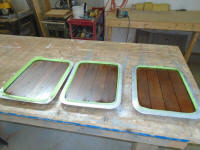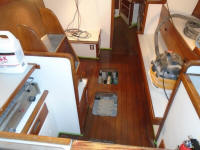 Meanwhile, I continued the varnish work on the little cockpit table, now on the back side of the piece.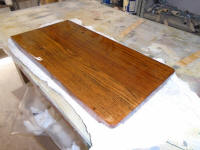 Total Time Billed on This Job Today: 4 Hours

0600 Weather Report:
40°, wind, clouds. Forecast for the day: Clouds with increasing sun, 58°