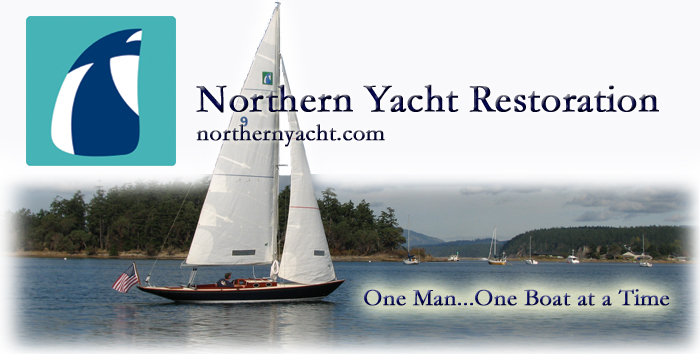 110 Cookson Lane | Whitefield, ME 04353 | 207-232-7600 | tim@lackeysailing.com
Home
| Contact Lackey Sailing |
Conversion Projects
|
Project Logs
|
Tim's Projects
|
Flotsam

Ashantee | Thursday, April 16, 2015

The old rubber feet on the boarding ladder were old, mismatched, and hard, so I replaced them with new, softer ones featuring a reinforced interior to prevent the tubing from poking through.

Next I turned to the handrails' final installation. For each of the rails in turn, I applied sealant and secured the rails from the top with 3-1/2" machine screws in the tapped holes. Belowdecks, I installed washers and cap nuts to finish off the installation before cleaning up the excess sealant on deck, leaving the masking tape in place for the varnishwork ahead.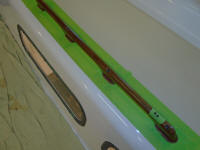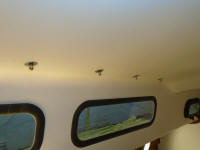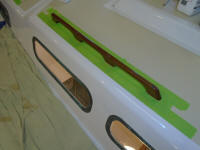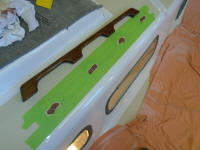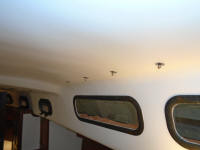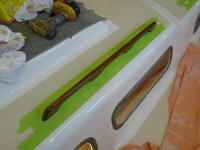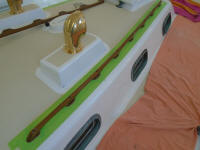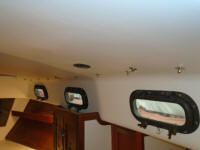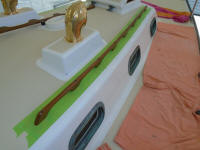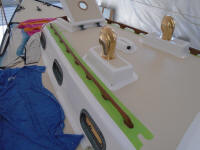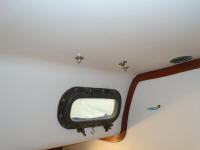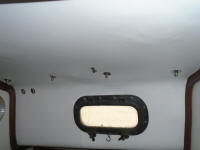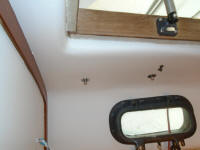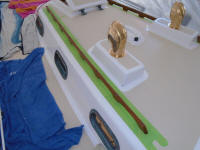 Afterwards, I installed teak bungs in all the handrail screwholes, plus the companionway blocks.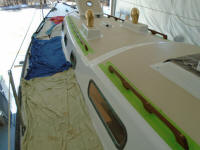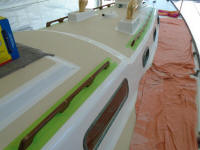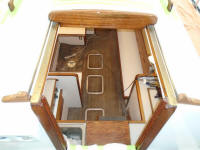 With the shorter special screws required now on hand, I could remove the dry-fitted center dodger track on the sea hood and install it permanently with sealant. The shorter screws were necessary here since the sea hood was thin and the longer ones poked through into the space required by the companionway slide.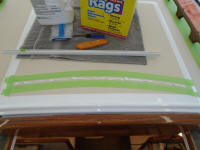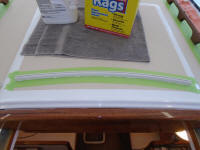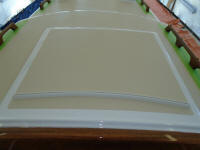 In the lazarette, I finished up work by securing the fuel tank vent hose back to the overhead, reconnecting the stern light wiring, and cleaning up any final debris left over from construction.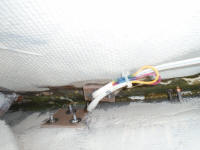 After vacuuming up the cabin from the latest mess left over from the handrails' installation, I worked on a few small details, including reinstalling the trim pieces at the edges of the overhead liner in the forward and main cabins.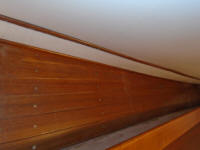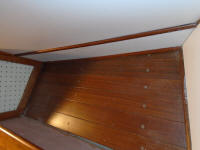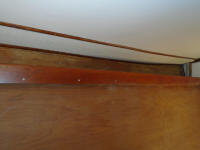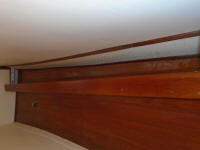 The owner purchased new LED lighting for the interior, and I got started by installing one of the lights above the starboard galley, using existing wiring and in the same place as an older light of similar style. With the light in place, I reinstalled the VHF radio in its original location; I couldn't recall where the microphone clip had been, so for the moment I left that off pending a review of old photos.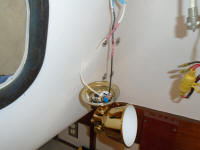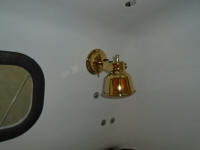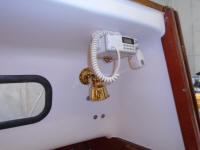 Total Time Billed on This Job Today: 7.5 Hours

0600 Weather Report:
20°, clear, calm. Forecast for the day: sunny, high 50s