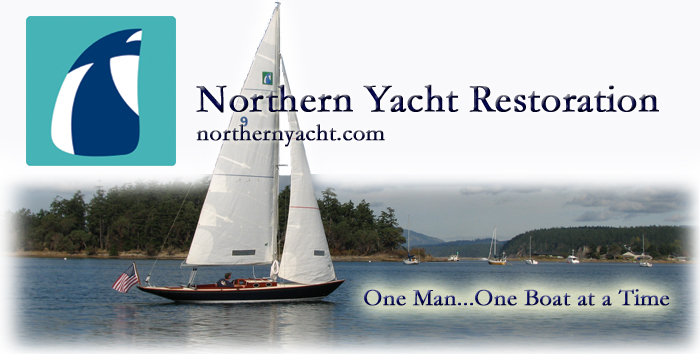 110 Cookson Lane | Whitefield, ME 04353 | 207-232-7600 | tim@lackeysailing.com
Home
| Contact Lackey Sailing |
Conversion Projects
|
Project Logs
|
Tim's Projects
|
Flotsam

Ashantee | Friday, April 10, 2015

The poop deck was ready for the traveler's final installation. To begin, I temporarily installed the track with two fasteners in the center area, to align it properly, then drilled all the remaining fastener holes through the newly epoxy-filled holes. I also marked where the track overlapped the masking tape so I could cut away the bonding area later. Removing the track once more, I tapped the new holes and milled countersinks, and removed the masking tape within the lines I'd marked.

I installed the traveler with sealant and new bolts and fender washers, using pan heads in the outermost holes on each side to act as stops. Afterwards, I cleaned up the excess sealant, and the last major piece of original hardware was complete.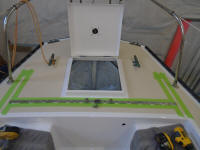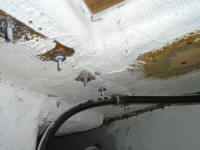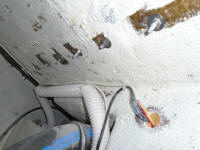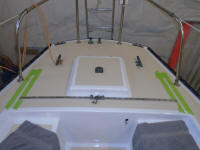 The companionway trim varnish was complete with six coats, so I removed the tape from the area. I spent some time cleaning up the deck, shaking out the protective cloths and vacuuming as needed to remove various drill spoils and the like from the past couple weeks' work, and to maintain a good work environment. I was done with the staging, so I broke it down to make access around the boat and shop cleanup less restricted.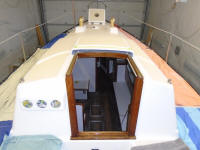 In the woodshop, I edge-milled the after coaming piece, rounding the top edge and the exposed side of the bottom edge, and marked and drilled for fixing screws and bungs. Then, I sanded the piece smooth through 220 grit to prepare it for varnish. Sorry, apparently I never took a photo of this stage.

One other small bit of woodworking remaining was to recreate the little blocks that secured the companionway sliding hatch rails. Using the originals as guidelines, I cut out a new pair of blocks (they reminded me of ducks, the old-fashioned drafting spine weights) and chiseled out the recesses for the rails before edge-milling rounded corners and sanding the pieces smooth.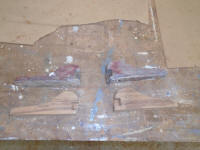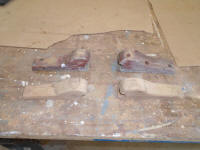 After lightly sanding the coamings and handrails, and other pieces as needed, and cleaning up the shop, I applied more varnish.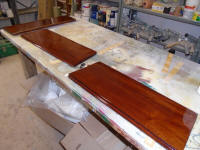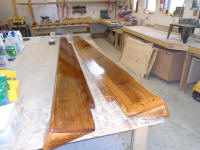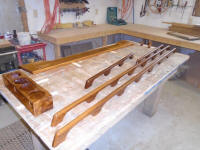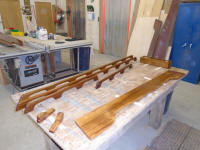 Total Time Billed on This Job Today: 6 Hours

0600 Weather Report:
32°, light rain. Forecast for the day: Rain before noon, then cloudy and showers. 46°