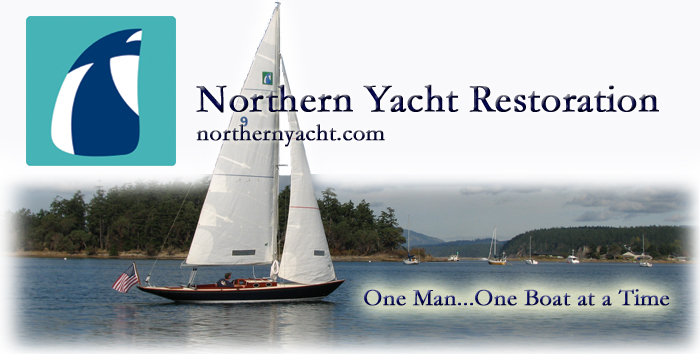 110 Cookson Lane | Whitefield, ME 04353 | 207-232-7600 | tim@lackeysailing.com
Home
| Contact Lackey Sailing |
Conversion Projects
|
Project Logs
|
Tim's Projects
|
Flotsam

Ashantee | Thursday, April 2, 2015

I'd allotted much of the day for dodger templating with Jason, but to get started I had some time for additional hardware installation, starting with the anchor platform. After cleaning up the bonding surfaces and removing old sealant, I began the installation by applying sealant to the stem fitting as required, and bolting the platform through the bronze stem fitting with two bolts, as before.

Next, I gooped up and installed with new bolts the two side support flanges, securing them from within with the original backing plates and new nuts and washers. After cleaning up all the excess sealant, the installation was complete.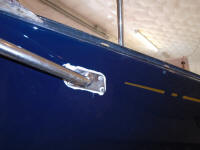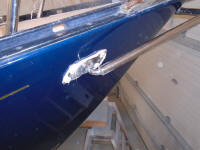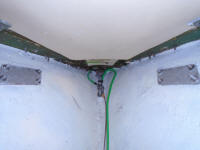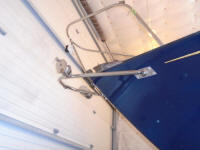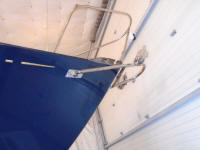 Finishing up the work in the chainlocker area, I reinstalled the wires and terminal block for the bow pulpit running lights, and reinstalled the hose on the new waste pumpout fitting.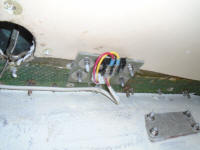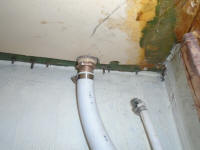 A little later, I installed the water tank fill on the starboard quarter.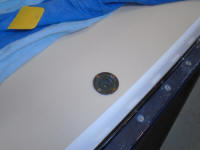 The first step for the new dodger template was to install the leading edge track, which Jason had pre-bent according to templates he'd made of the shape we determined during the initial session. He installed these tracks dry for now; later, I'd remove and bed them.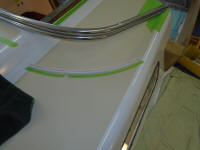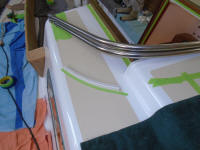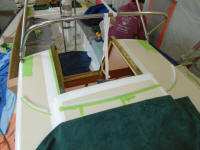 With the frame set up in its final position, and the tracks in place to define the leading edge, Jason began the template for the new canvas with the dodger top using clear plastic template material, then moved on to the windshield. By now, this showed the shape of the final product well.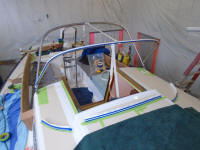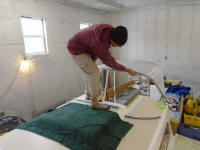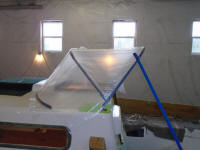 The transition between the body of the dodger and the side wings, which had to wrap over the cabin side and, more importantly, the bulge of the cockpit coamings, would prove to be the most challenging part of any dodger construction, and here was no exception. We spent quite a bit of time puzzling out the beginnings of this complex transition before the end of the afternoon, at which time we'd come up with the basic plan, but the final templating remained to be completed the next day--specifically how the wing would interact with and be shaped by the side of the cabin and over to the coaming. But the basic shape and profile of the dodger was defined well enough in a visual sense.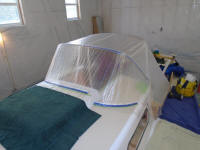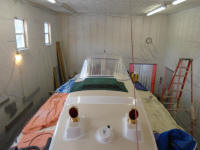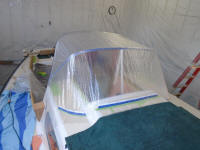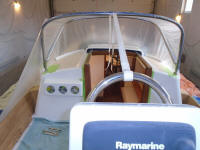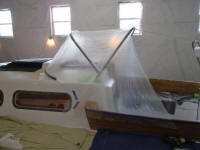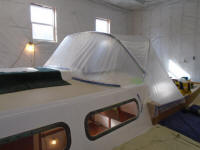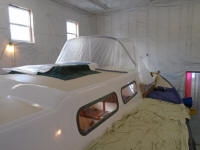 Total Time Billed on This Job Today: 6 Hours

0600 Weather Report:
Partly cloudy, 20°. Forecast for the day: Increasing clouds, 40°.