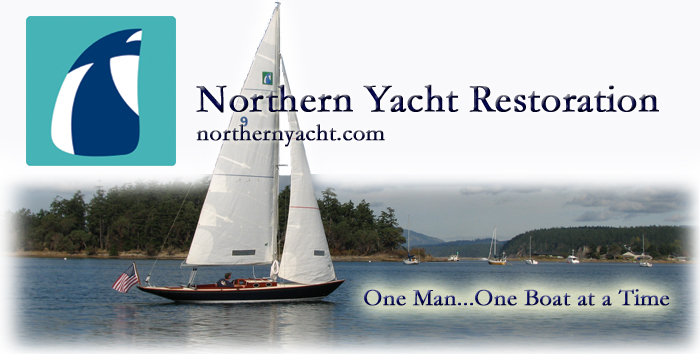 110 Cookson Lane | Whitefield, ME 04353 | 207-232-7600 | tim@lackeysailing.com
Angelina | Friday, March 25, 2011

I spent the morning taping off the other areas of the deck nonskid, on the coachroof, sidedecks, foredeck, and poop deck. As before, I followed the edges of the existing patterns as closely as possible, and duplicated the corners as applicable-some square, some rounded.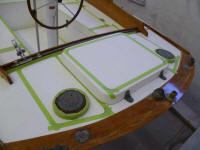 For this job, we selected KiwiGrip nonskid paint, which I'd be having locally tinted to a custom beige color selected by the owner. However, the owner also requested that the sliding companionway hatch be left white, so before taking the white base paint out to be colored, I applied some of the pure white to the companionway hatch.

A little later, when the paint set up, I removed the masking tape from this area; although previous tests I'd performed with this product and masking tape indicated that tape removal while the paint was wet (or at least not cured) was not required, when possible it made sense to do so.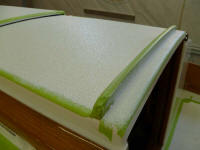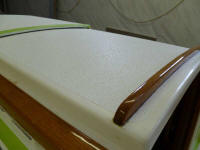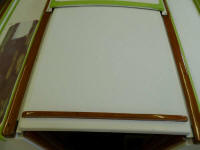 Before painting the new nonskid, I planned to prime the newly-repaired deck areas. However, despite the apparent success of a primed test patch in a small area, prudence dictated that I leave the fresh epoxy as long as possible before overcoating, so I decided to refrain from priming till Monday.

To wrap up the day--and the week--I prepared orders for various fasteners I'd need for hardware reinstallation, and made other preparations for the week ahead.

Total Time on This Job Today: 4.5 hours