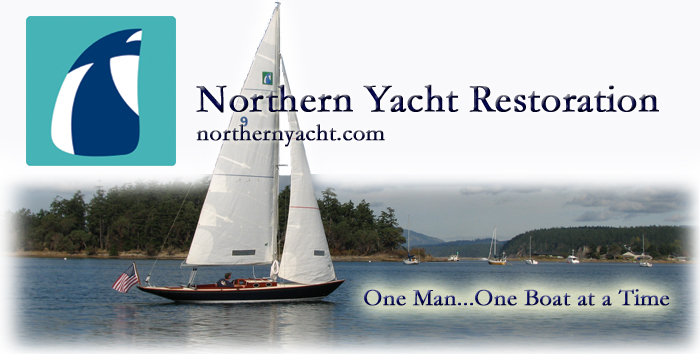 110 Cookson Lane | Whitefield, ME 04353 | 207-232-7600 | tim@lackeysailing.com
Angelina | Tuesday, March 8, 2011

Sometime last week, I took advantage of a warm-ish afternoon to begin to prepare the area around the boat. We'd had a cold, snowy winter, and while I'd avoided piling any snow directly in front of the boat, there was significant snow all around. After moving two smaller boats on trailers, which had been parked directly in front, I was able to clear out some of the surrounding snow to open things up; I hoped that additional sun and predicted rain and warmer weather would help open things up a bit more.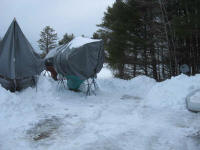 Roughly a week later, the situation hadn't changed too much, but I was glad I'd been able to do what I did, as a couple days of heavy rain followed by a refreeze had had the net effect of minimal snow reduction, but significant ice increase at ground level. This ice encapsulated the bottoms of the jackstands in several inches of hard, gray ice depth, which I had to chop away with a small hatchet in order to release the stands.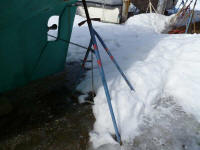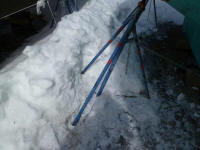 The forward part of the boatcover frame had broken at the ridge, and bent down beneath the weight of snow and ice. This caused some tearing in the older tarp, and as I'd discovered the collapse a few days earlier, I'd cut a drain hole through the tarp so that the predicted rain wouldn't collect and make the problem worse. Therefore, when I removed the tarp there was no need to save it, which meant I could cut around the large, heavy chunk of ice on the foredeck, remove the remainder of the tarp and frame for access, then push the ice overboard. The largest piece seen here was roughly 36" in length, for scale.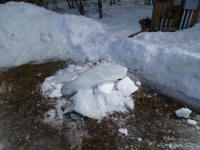 With the cover and frame removed, and the jackstands sufficiently freed from the ice, I could load the boat up and place her in the shop.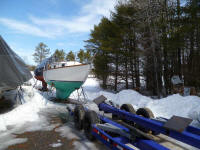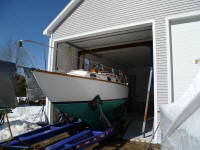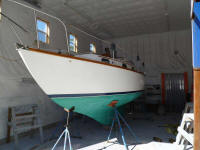 Since the main focus of this job was to repair a roughly six-foot long section of the starboard sidedeck with known core problems, I'd have to wait a few days for the boat--and the core--to warm up to ambient shop temperature before I could feel good about determining the extent of the area to repair, as I needed to inspect the entire deck to search for any other issues. Even with things mostly frozen, however, the condition of the starboard sidedeck was clear when trod upon, crackling underfoot from the frozen core within.

Otherwise, the boat was in very good condition.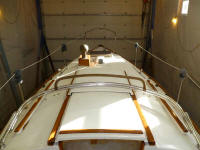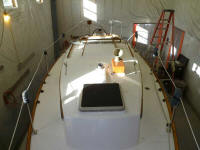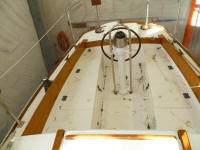 To wrap up the day's work, I set up staging about the boat and made a few other preparations.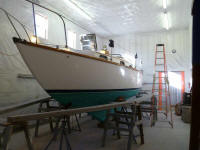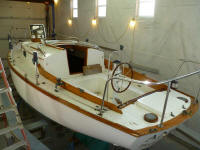 Total Time on This Job Today: 3.25 hours