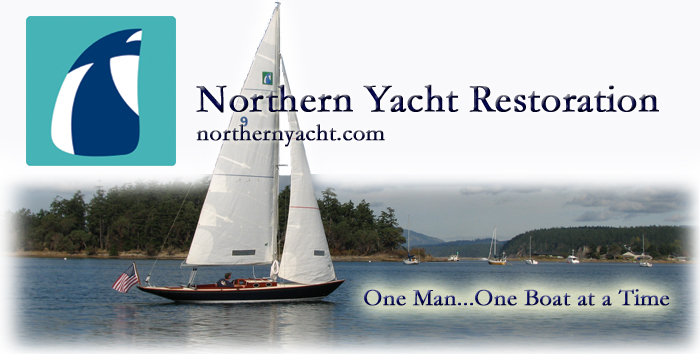 110 Cookson Lane | Whitefield, ME 04353 | 207-232-7600 | tim@lackeysailing.com
Summer Song | Monday, October 17, 2011

I got a late start after a boat delivery and other distractions, but by lunchtime I'd finished sanding the remaining area of the port sidedeck, through the three grits as on all other areas of the deck.

Afterwards, I cleaned up from the previous days' sanding efforts, then inspected the entire deck looking for minor dings, chips, voids, and other damage, which I opened up/ground out as required with a small grinding disc. In a few areas, I also reamed out old fastener holes that had been uncovered during the sanding, or would otherwise be unused. Anticipating a minor relocation of the cabintop-mounted halyard and staysail cleats, I bored out the existing holes to prepare for filling.

On the poop deck, the owner decided to do away with two old bronze deck plates, which had been covering unused vent openings, so I prepared the openings for patching by grinding around their edges as needed to accept new fiberglass.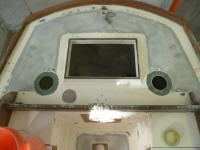 I vacuumed the decks and cleaned all the areas to be filled with solvent, then applied the first coat of fairing filler to the small voids, and filled the centers of the large holes in the poop deck (I'd taped over the bottoms of the holes first). Then, I installed three layers of concentric fiberglass discs to patch the openings.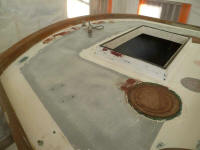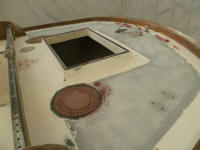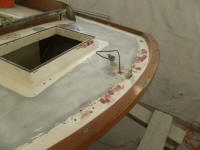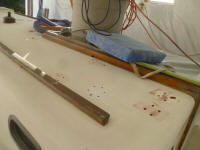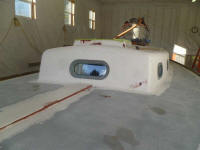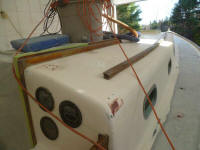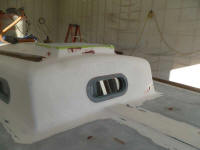 Total Time on This Job Today: 6.25 hours