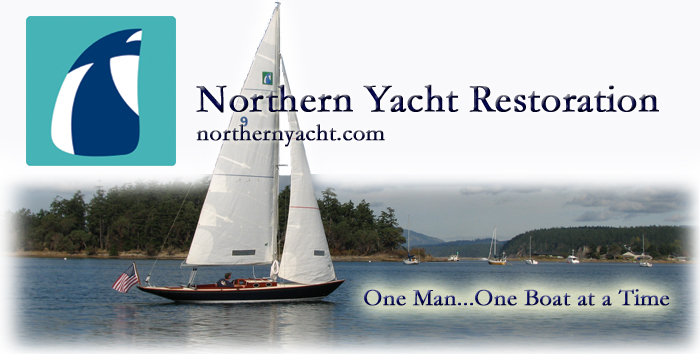 110 Cookson Lane | Whitefield, ME 04353 | 207-232-7600 | tim@lackeysailing.com
Home
| Contact Lackey Sailing |
Conversion Projects
|
Project Logs
|
Tim's Projects
|
Flotsam

Southerly | Friday, October 17, 2014

Since the last rainstorm and initial report on the observed leaks in the boat, the owner came by and rebedded the two chainplates that had been leaking on the starboard side, and also removed an inner frame from the port aft deadlight over the galley, which I'd also observed leaking earlier.

With more rain on hand, I spent more time aboard to continue the troubleshooting process. It appeared that the starboard chainplates were now watertight, as I did not see any drips or wetness on either of the two that had been leaking before.

In the hanging locker, however, I noted additional moisture dripping off the liner on the overhead; this appeared to be coming from the portlight directly above (the middle opening port on the starboard side), with drips visible around the frame and a spot at the glazing between glass and frame that showed signs of past and/or ongoing water infiltration. I tightened the dogs on this port, as it didn't seem as they were that tight, so it could be a simple as that, at least in part.

From this particular rainstorm, I did not see any water on the starboard v-berth beneath the forwardmost port that had been leaking earlier.

In the lockers outboard of the settee on the starboard side, I still found wetness on the plywood at the forward end, but since it wasn't coming from the chainplate there had to be another source. Inspecting the area anew, I found a drip coming off the liner above, near a small hole in the liner. It was possible that the port above was leaking not only outside of the liner into the cabin (as previously observed), but also between the liner and the cabin structure itself, which could then end up in the area I was seeing this new drip. Of course, leaks that occur between the liner and the cabin itself could theoretically come from anywhere, but the port seemed the most likely culprit for now, since I already knew it leaked and it was directly in line with this area.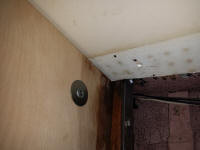 I also found a drip of water on one of the toerail fasteners above, in addition to the small hole in the hull-deck flange that I'd noted earlier.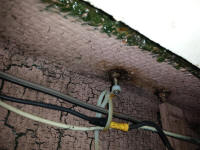 In the galley, where the owner had removed the inner deadlight frame, after watching for a while I noticed a drip emanating from between the liner and the cabinside. The exposed inside face of the outer frame, and the glass, appeared to be dry at the moment.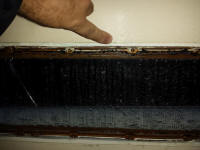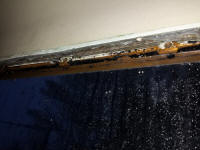 I took one more opportunity to crawl into the port cockpit locker and inspect the underside of the stanchion base that I thought was the source of the leak here. With water pooled on the sidedeck and submerging the base (from a clogged deck drain--since cleared), it was easy to track water to at least two of the base fasteners, confirming my earlier thoughts.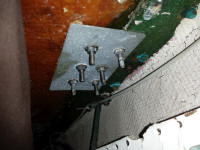 Total Time Billed on This Job Today: .5 Hours