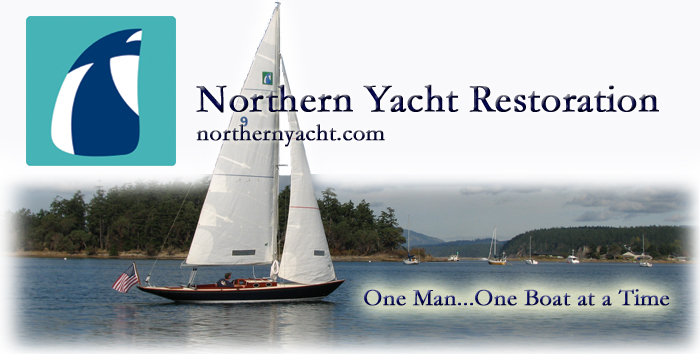 110 Cookson Lane | Whitefield, ME 04353 | 207-232-7600 | tim@lackeysailing.com
Home
| Contact Lackey Sailing |
Conversion Projects
|
Project Logs
|
Tim's Projects
|
Flotsam

Southerly | Friday, December 5, 2014

With my work list for this job completed, I spent a few hours wrapping up the final details, starting with unmasking all the exterior woodwork. I also reinstalled the minor pieces of hardware (mostly dodger hardware) that I'd removed for the refinishing, and reinstalled the forward hatch and mast wiring cover box.

Later, I added some chafe protection to portions of the mast and other areas as needed to prepare for the winter cover. The mast would serve as the ridgepole, and I added some support under the middle of the mast to accommodate any snow load. To ensure a decent pitch to the cover, I removed the stanchions and lifelines, so the cover could slope more sharply towards the gunwales; this also meant there'd be no need for additional framework to support the tarp.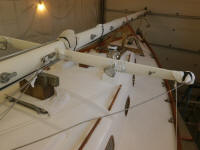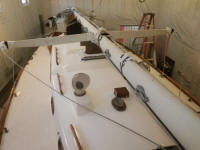 To wrap things up, I dismantled the staging and removed my final power cords, tools, and lighting. I planned to leave the boat inside over the weekend to give the new finish some cure time before moving the boat outdoors into the cold. Despite about 24" of snow in November, the driveway had been clear and down to bare dirt earlier in the week, but some unfortunate weather mid-week--just enough sleet and freezing rain followed by an immediate freeze-up--had coated the driveway with an impenetrable, rock-hard layer of ice, so I held out some hope for some rain and a minor warm-up over the weekend to help mitigate the ice...but it looked like I'd be needing to do some major sanding before I could shift boats around.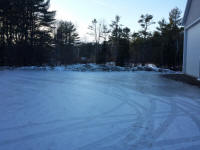 Total Time Billed on This Job Today: 3.5 Hours