Skeedeen | Monday, May 4, 2009

I continued work on the new cabin sole. The owner selected cherry for the new sole, so with that decision behind us I removed the Meranti plywood substrate from the cabin and used it as a template to mark and cut out the top laminate of the from 1/2" cherry plywood. After testing the fit of both pieces in the boat, I laminated the two layers together (for a total thickness of 7/8") with epoxy and stainless steel screws that I drove in from the bottom side.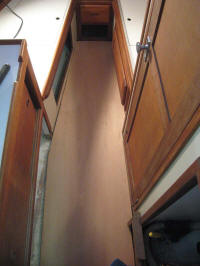 To complete the basic construction, once the layers were secured together I coated the bottom side and the edges with epoxy resin to seal the plywood. Then, with the sole propped against the wall to allow me to work on the other side, I lightly sanded the cherry surface and applied a sealer coat of varnish.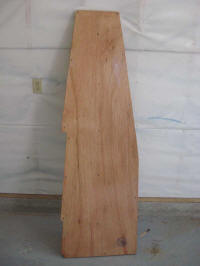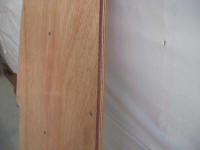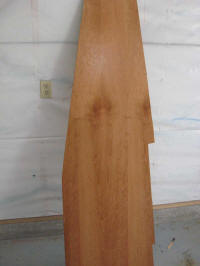 Meanwhile, I reassembled the bi-fold companionway doors and upper companionway hatch pieces, and installed them back on the boat. I ordered some little rubber bumpers (rubber baby buggy bumpers?) to install in strategic locations to prevent damage to the varnish, and to replace old ones that were either missing or otherwise unsuitable.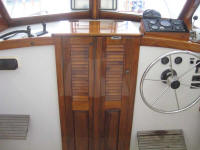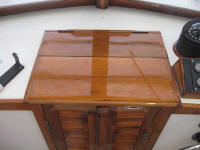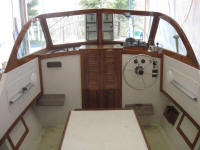 With the cabin sole simply needing an appropriate build-up of varnish before installation, there was little else I could do on this project. I cleaned up the old 1/4 round trim from the old cabin sole so that I could re-use it in the new sole's installation, and then, late in the day, found that I could lightly sand and re-varnish the cabin sole, completing 2 of the 4 anticipated coats today.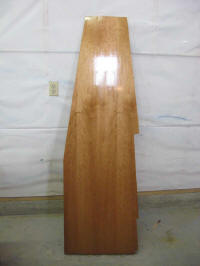 Total Billed Time on This Job Today: 4.5 hours