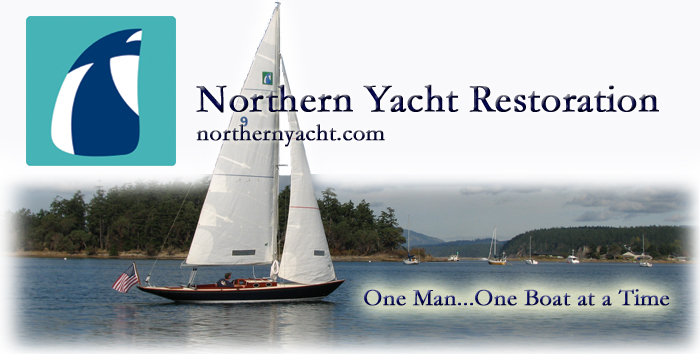 110 Cookson Lane | Whitefield, ME 04353 | 207-232-7600 | tim@lackeysailing.com
Home
| Contact Lackey Sailing |
Conversion Projects
|
Project Logs
|
Tim's Projects
|
Flotsam

Ms Lynne G | Wednesday, October 8, 2014

Preparing for gloss topcoats on various areas of the deck, I spent the day masking off the eventual nonskid pattern areas, leaving exposed only those areas to be topcoated. Starting in the cockpit and on cabin top, I marked out 1" borders at the edges, rounded all the corners with a 1/2" radius, and covered the field areas with tape and paper to protect against overspray.

Along the gunwales, I needed to allow enough border width to accommodate the new toerails, plus (ideally) keep a consistent 1" reveal inside. Since the new toerails, like the originals, would likely end up just outboard of the chainplates, I chose to mark a line 1" inboard of the chainplates along the entire gunwale length. After determining the total width of this border (2-13/16"), I used a compass to mark a rough line following the gunwale, and taped it off, fairing by eye as needed.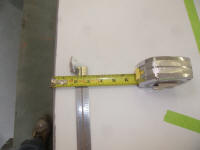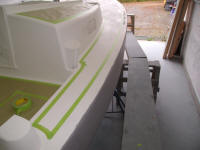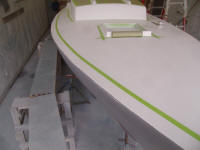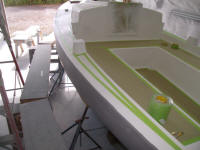 Since the hull paint would eventually wrap over the rounded gunwale edge outboard of the toerail, later I applied another strip of tape at the outboard edge, so the deck paint would end about halfway beneath the new toerails' base.

At the stem, I used the old stem piece to mark off an oversized area. Though I planned to more or less replicate the original, I didn't know the final dimensions and shape of the new stem piece and didn't want to commit myself to a pre-painted border; therefore, I couldn't mark off the final border dimension now, so I left an ample space to which I'd apply the topcoat, and later, when it was time for nonskid and the toerail was complete, I'd mask the final shape. I didn't round these taped corners since they didn't represent the final contours anyway.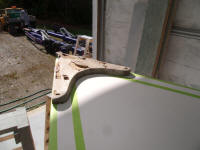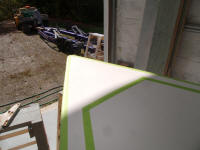 Meanwhile, I masked off borders on the remaining areas of the deck, maintaining the 1" border and rounded corners, and covered all the field areas with paper and tape to protect against overspray.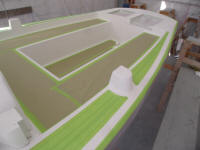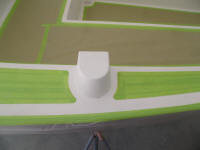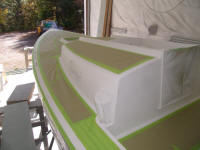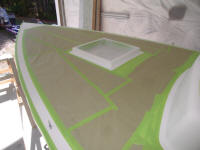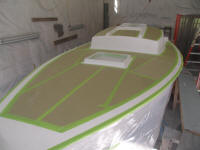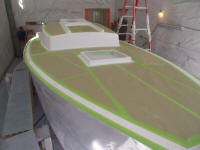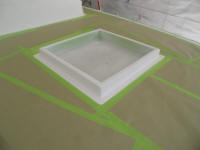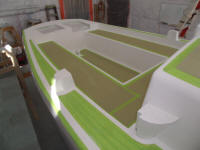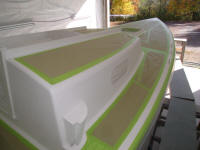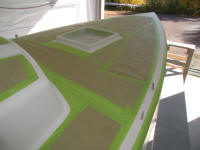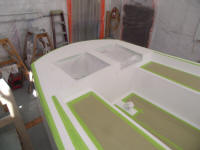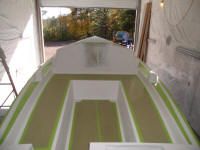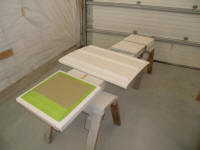 To protect the hull from possible overspray, I covered it with plastic, taped up to the line I'd made at the gunwales.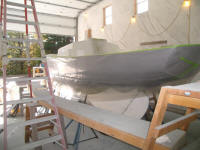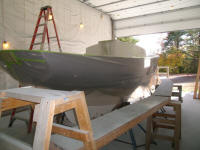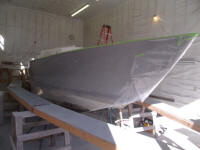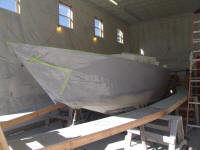 With the masking complete, I vacuumed the deck areas once more, then solvent-washed with the Alexseal wipe-down solvent which, along with various final preparations to the paint and spray equipment, wrapped up the day's work.

Total Time Billed on This Job Today: 6.5 Hours