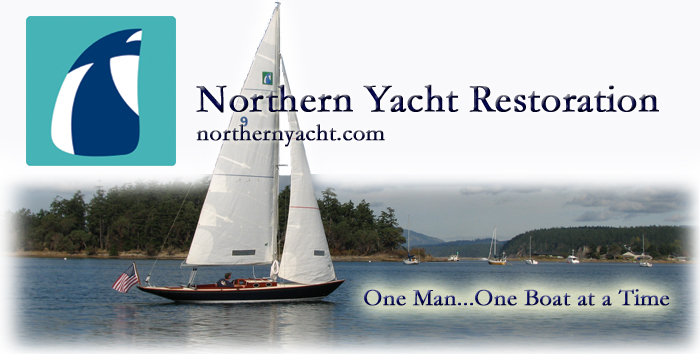 110 Cookson Lane | Whitefield, ME 04353 | 207-232-7600 | tim@lackeysailing.com
Home
| Contact Lackey Sailing |
Conversion Projects
|
Project Logs
|
Tim's Projects
|
Flotsam

Khasanah | Monday, April 15, 2013

Since I'd already prepared the fastener holes in the coachroof by drilling and tapping for the machine screw threads, final installation of the two jib tracks and cleats went pretty quickly. After masking around the hardware, I applied sealant and secured the parts with new fasteners, then installed the companionway hatch rails and hatch itself, screwing into the rails from beneath.

I reinstalled the chainplates, which I'd cleaned of old paint, and secured them with new fasteners. The original installation had apparently relied on external beads of sealant alone to prevent water ingress, but I thought it'd be better to install some new slotted deck plates, which allowed for a better seal around the chainplates. I applied heavy beads of sealant around the chainplates and pressed the plates into position, leaving the squeezeout to cure before removal; the sealant would also secure the deck plates.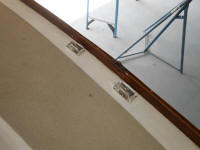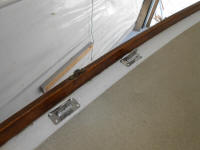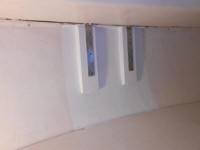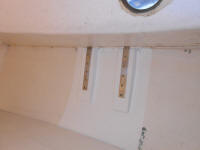 To finish off the through hull patch from inside, earlier I'd applied some epoxy-based primer to seal the new epoxy patch, and over this I applied a coat of gray paint to match the surrounds.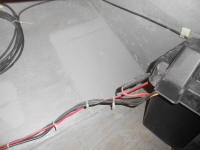 With the boat reassembled, I cleaned up from the project and wrapped up the job.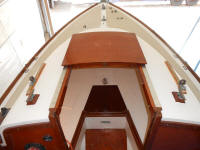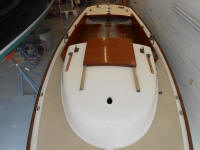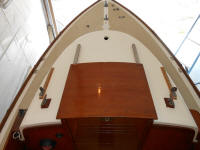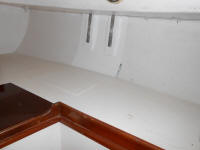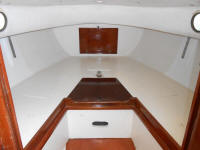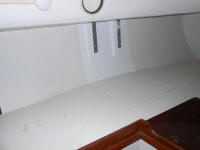 Total Time on This Job Today: 4 hours