Kaholee Refit | August 22, 2007

It was a day full of distractions and other appointments, but I managed a little bit of work. I got started with the cabin sole, and removed the screws and washers that had been temporarily holding the teak in place while the epoxy cured. Then, following the same basic process, I epoxied the teak strips to the four bilge access hatches.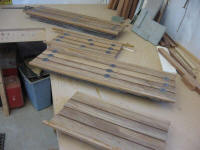 With some time to kill before an appointment--but not enough to really dig into anything serious--I turned my attention back to the interior locker doors. The frames were done; the final coat of finish turned out nicely. Now, it was time to address the open fields of the doors. Using the pre-milled strips of mahogany that I had also pre-finished, I began cutting and installing strips in the door fields, using glue to secure the slats in the rabbet of the door frames. I cut and installed 7 slats in each of the six settee locker doors before I ran out of time at this juncture.

Later in the day, I attended to the cabin sole on the head platform. I cut and fit the 9 required strips of teak, just the way I did on the main cabin sole, and then epoxied them in place. At this point (1600), I called it quits for the day so that I could sneak out sailing for a couple hours before it got dark.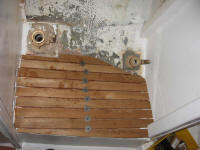 Total Time on This Job Today: 3.75 hours