Kaholee Refit, Phase 3 | Saturday, April 19, 2008

After a long winter, the snow piled high in front of Kaholee's winter storage area finally melted enough so that I could pull the boat out and move her to another location more conducive to the work list ahead.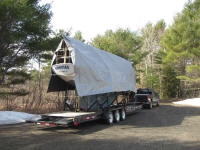 Later in the week, with beautiful early spring weather and above-normal temperatures, I took the opportunity to pull off the cover and, later, the framework (not pictured) in preparation for the work ahead.

Work on the final pre-launch punch list should get underway soon. All the basics are on hand and ready for final installation: the new shaft and propeller, new rigging (as needed), and much more. The final push begins soon!

Total Time on This Job Today: 1.5 hours