Iota Refit | January 9, 2008

After the pace of the first part of the week, today seemed positively relaxing. I began by finalizing the materials order for balsa core, fiberglass, and related supplies, and placing the order with my supplier so that I'd have the materials tomorrow afternoon.

Next, I ground the undersides of the port and starboard sidedeck panels that I'd removed yesterday, since I hadn't time to get to it during yesterday's grinding session. Then, I ground tapers into the top edges of the panels to mate up with those that I ground on the boat yesterday.

While I was at it, I sanded the paint off the sliding companionway hatch, which I'd earlier removed from the boat.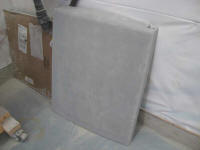 The shop was a disaster of grinding dust, deck pieces, and piles of old balsa core, and with the demolition complete and a requirement for a cleaner environment, I cleaned up the worst of the mess and, taking advantage of unseasonably warm temperatures outside, aired out the shop afterwards to clear the dust. Then, I vacuumed the decks and uncored areas to remove any final detritus and dust.

I added some additional bracing beneath the foredeck to help better support the area when I installed the core, and applied some minor fiberglass patches over three holes in the inner skin so that resin or adhesive during later recoring/rebuilding steps wouldn't pass through into the interior: I covered the waste tank deck plate opening, the anchor line hawsepipe forward, and a torn area on the starboard foredeck where deck compression from the rotted core had allowed the backing plate for the forward lifeline padeye to pull through the bottom deck skin from beneath. Over each opening, I installed a patch of a single layer of lightweight fiberglass--not as a structural repair, but simply to seal off the interior of the boat.

Meanwhile, I made other preparations for the new core installation, which I planned to begin as soon as the materials arrived, and researched some rechroming options for the opening ports, which featured the original plated finish in relatively poor condition.