Equinox Project | Friday, January 23, 2009

With the paint on the hull too fresh today to tape and move on to the next steps, I was in a bit of a holding pattern. To do what I could to prepare for spraying the boottop as soon as possible, I removed the tape and paper covering the primed-but-not-painted boottop area, and retaped the lower edge of the boottop at the waterline, since the existing tape was well covered with primer, had been sanded over, and I didn't want to risk unmasking problems once I'd applied the boottop topcoats. The next steps, once the topside paint had cured sufficiently (i.e. any time after today), would be to tape and mask off the topsides and spray the boottop.

I also removed all the masking from the rudder, as the work on the rudder was done for now; later, after hanging the rudder back on the boat, I planned to restrike the rudder's waterline and boottop in accordance with the new heights on the hull, but there was no way to do it now.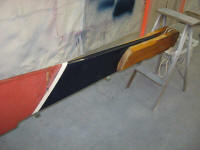 With the immediate work on the boat taken as far as I could now, I did what I could to move the overall project forward in other ways. To that end, I sanded and applied more varnish to the various exterior trim pieces that I had started recently, to get a decent buildup of protective and sealing varnish on all sides of these pieces before installation; since installation would require bunging the fastener holes, I'd do most of the varnishing only after these pieces had been reinstalled and bunged.

I rounded out the days work with more planning and ordering of fasteners and other items I'd need in the near future once the hull work was complete.