Equinox Project | Friday, February 6, 2009

I'd been meaning to do it for days, but kept running out of time. So this morning I began by reinstalling the one port trim ring, on the aftermost port on the starboard side, that I'd removed much earlier as a test. The ports were so well adhered and bedded that I feared attempts to continued removal would cause more harm than benefit, so I didn't remove any of the other trim rings. I never even attempted to dislodge the one port after I removed the trim.

In any event, I cleaned off the old sealant from the trim ring and around the opening, and reinstalled it in a heavy new bed of sealant. Exciting stuff, but it was nice to tie up a loose end.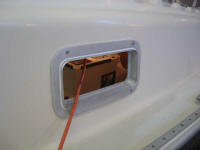 After cleaning up from that job, I continued with the deck buffing. Last week, I'd completed all areas forward of the cockpit. Now, I finished up the sidedecks and coamings outboard of the cockpit, leaving the actual cockpit well for later, sometime after the engine installation was complete since it didn't seem to make sense to clean up these areas just yet. As before, I used several compounds to clean up the areas around the cockpit and return some color and shine to the original gelcoat.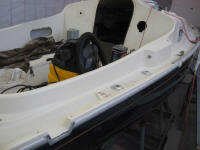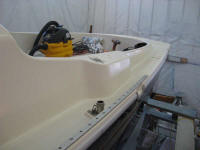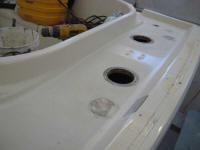 This process served as a means to an end also, beyond simply the need to clean up the gelcoat. With these areas now cleaned up, it meant I could continue with hardware and trim installations. So I spent most of the rest of the day installing the 4 sections of teak caprail, plus the taffrail. I'd removed these in order to clean them up and begin the varnish process; now I needed to install them so I could bung the fastener holes and continue the varnish buildup with many more coats.

For each piece, I secured it in a bed of teak-colored sealant, using new pan head screws as per original. The process was unremarkable other than the significant impact the brightwork, even in its under-finished state, had on the boat's appearance. And I even remembered to slide the new genoa lead cars onto the track first.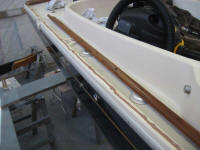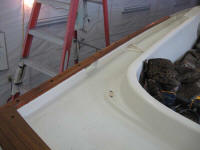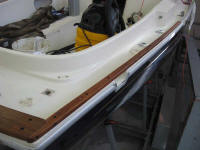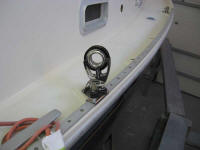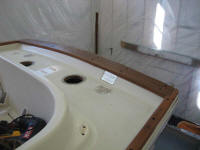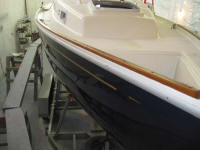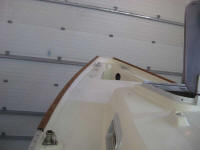 Continuing on, I also installed the teak handrails on the coachroof, wrapping up the exterior trim installation (other than the companionway trim, which would wait till later in the process).

To finish the day, I sanded and varnished a few small trim pieces, notably the steps to the cabin, which needed one more coat of gloss base varnish before I could apply the satin finish coats. I was looking forward to getting the steps back in place for ease of access to the cabin during the upcoming stages of the project.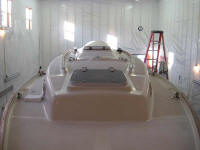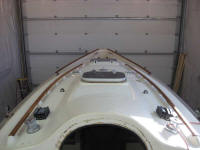 Total Time on This Job Today: 7 hours